N2200EVO
Evolve Your Digital Home
Lista de compatibilidades
Características
Servidor multimedia DLNA
NAS de Thecus es un excelente servidor multimedia y puede almacenar fácilmente grandes bibliotecas de canciones, fotografías y películas. El servidor multimedia DLNA permite reproducir todos los archivos multimedia en el televisor, en el equipo de música o en el dispositivo móvil.

True Image de Acronis
Thecus proporciona lo mejor con el software de copia de seguridad avanzado de Acronis. Haga copias de seguridad de todos sus datos con la función Protección con un solo clic o elija solamente los archivos que más le interesen. Acronis ofrece una lograda interfaz, con un diseño sencillo y funciones globales que permiten mantener sus datos seguros.

Rsync
Hacer copias de seguridad de los datos es muy necesario y todo el mundo tiene necesidades específicas cuando se trata de almacenamiento. La funcionalidad Rsync de Thecus proporciona a los usuarios gran flexibilidad con la función de copia de seguridad remota, un programador flexible y la estabilidad de la transferencia basada en Linux.

Energy Saving
La energía necesaria para mantener NAS activo y en funcionamiento puede ser un gran valor añadido a su coste total. Reduzca el coste total de propiedad con las funciones de ahorro de energía avanzadas de N2200EVO. Con la opción de encendido/apagado de energía planificada, puede programar su N2200EVO para que sólo se encienda durante ciertas horas del día. Y con el apagado de disco automático y un diseño de ahorro de energía mejorada, el N2200EVO es un verdadero economizador de energía.

AJAX
No debe ser un contratiempo hacer que el N2200EVO esté activo y en funcionamiento, por lo que viene equipado con un sencillo asistente de configuración que le guiará por todo el proceso de configuración. Una vez que esté en funcionamiento, la nueva interfaz de usuario basada en AJAX hará que usar el N2200EVO sea una tarea sencilla y sin complicaciones.
Información general
Building on the success of the popular N2200PLUS, Thecus is releasing a new 2-bay model aimed for home use. The N2200EVO provides users good speed and great value, with transfer rates over 50MB/s and a host of backup. Thus, multimedia functions makes it easy to keep data safe while creating movies, music, and photo hub for your home.
The N2200EVO's dual-core Cavium processor is powerful enough to handle large backups, web hosting, photo serving, multiple users, and even streaming HD video. Although it is ideally suited for home use, with a maximum capacity of 6TB it can also easily fit into a small business environment to act as a central cloud storage or backup server among many other things. To cut down its carbon footprint as well as save on electric bills, the dual-core Cavium has extremely low power usage and with scheduled power on/off, the N2200EVO will only be on when it needs to be.
- Thecus Firmware includes support for all the newest advances: XFS, 3TB HDD, SATAIII HDD, an open source module system, and more.
- The powerful Acronis Backup software makes backups easy and keeps your data safe!
- A wide array of free modules are available from www.thecus.com or the Thecus UI, including:
a. A download manager for BitTorrent, eMule and HTTP. You don't even need to switch on your computer!
b. The brand new Piczza! photo server, which allows you to share your pictures with friends and family in a smart and easy-to-use interface.
c. A Web Disk module to upload and download data simply and easily to and from your NAS.
"Home users are educating themselves and learning of the importance of data backup and also the fun of a home media center. The N2200EVO fulfills these specs among many others extremely well and does it all at a great value," said Florence Shih, Thecus Technology General Manager. "The dual-core Cavium also makes sure you get good performance without testing your electricity budget."
"Cavium is delighted to be working with Thecus in introducing the revolutionary 2-Bay NAS product to the market," says Douglas Cheung, Director of Marketing for Consumer and Home Networking at Cavium. "Our ECONA family of dual-core System-On-Chips (SoCs) deliver best–in-class NAS performance with the lowest power consumption. N2200EVO leverages these attributes of ECONA SoC to deliver an energy efficient 2-bay solution without compromising the performance or cost targets."
Especificaciones
1. Plataforma de hardware
Elemento
Especificaciones
Procesador
Dual-core Cavium SoC Processor
Memoria del sistema
256MB DDR2
Interfaz LAN
RJ-45x2: 10/100/1000 BASE-TX Auto MDI/MDI-X
Interfaz USB
Puerto de destino USB 2.0 (frontal x1)
Puerto de host USB 2.0 (trasero x1)
Interfaz de disco
2 x SATA para interna

Fuente de alimentación
Adaptador de alimentación externo
Control térmico
Sensor térmico en disco duro
Control de temperatura del sistema
Zumbador
Alarma de frecuencia ajustable
Botones
Botón de alimentación (frontal, apagado por software)
Botón de copia USB
Botón de reinicio
Condiciones medioambientales
Temperatura: 5ºC a 40ºC
Humedad: 0 ~ 80% H. R. (sin condensación)
Chasis
Chasis metálico
Dimensiones (ALxANxFO)
213.59 x 115.17 x 139.2 (mm)
Peso
2.7Kgs

2. Funciones de software
RAID
Modos RAID
RAID 0, 1,y JBOD
Reconstrucción automática
Se admite
Intercambio en caliente
Se admite
Disco
Administración de energía
Configuración disponible de reducción de velocidad de giro en período de inactividad
Detección de bloques incorrectos
Se admite
Información SMART
Se admite
Red
Configuración
Dirección IP fija y dirección IP dinámica
Modo de dirección IP compartida
Se puede habilitar/deshabilitar
Protocolos de transporte
TCP/IP/Appletalk
Protocolos de archivo
SMB/CIFS, HTTP/HTTPS, FTP, NFS, AFP
Acceso a datos
Sistemas operativos cliente compatibles
Windows XP and after
Windows Server 2003 and after
UNIX/Linux
Mac OS X
FTP
Servidor FTP integrado con control de ancho de banda
FTP seguro
Servidor FTP seguro integrado con control de ancho de banda
TFTP
Los usuarios pueden descargar y cargar archivos con programas TFTP
Administrador de descargas
HTTP/FTP/BT/eMule (mediante módulo DLM)
Descarga NZB (mediante módulo NZB)
Servidor de impresión (IPP)
Admite impresoras USB
Admite una amplia gama de impresoras IPP
El cliente puede administrar las tareas de impresión (lista/eliminación) a través de la interfaz de usuario web

Copia de seguridad de datos
Copia de seguridad de datos incremental de cliente
Acronis True image(OEM version)
Recuperación de desastres en el sistema cliente
Acronis True image(OEM version)
Copia USB
Copia el contenido del dispositivo USB en el dispositivo NAS (a través de módulo de copia USB)
Copia de seguridad de los datos del dispositivo NAS en dispositivo USB externo
Se admite (a través de módulo de copia de seguridad USB)
Copia USB bidireccional
Se admite (a través de módulo de copia USB)
Software de copia de seguridad de cliente
Utilidad de copia de seguridad de Thecus (Windows/Mac OS X)
Copia de seguridad Rsync
Rsync Replica los datos entre dos sistemas (mediante el módulo Rsync)
Mac OS X Time Machine
Se admite
Administración de energía
Encendido y apagado programados
Se admite
Administración de volúmenes
Sistema de archivos
XFS
Compatibilidad multimedia
Servidor de iTunes
Tipos de archivo compatibles: AAC, MP3 con etiquetas ID3 y WAV
Servidor web de Piczza!™ (a través de módulo)
Admite GIF, JPG (JPEG), BMP y PNG
Admite presentación de datos EXIF
Admite presentación de diapositivas

Servidor multimedia
Admite protocolo de transmisión por secuencias UPnP AV (mediante módulo Twonkymedia)
Vigilancia sencilla
Admite hasta 2 cámaras IP (a través del módulo de cámara IP)
Autenticación de usuarios
Usuario local
Admite cuentas de usuario integradas
Grupo local
Admite grupos de usuarios integrados
Sistema de archivos
Tipo
Sistema de archivos transaccional
Idiomas admitidos
Compatible con Unicode
Autorización
Privilegios de "lectura", "escritura" o "denegar" a usuarios individuales o grupos en carpetas y subcarpetas
Administración
Interfaz de usuario
La interfaz de usuario basada en web admite inglés, chino tradicional, chino simplificado, japonés, coreano, francés, alemán, italiano, español, ruso y polaco.
Utilidad de software
Asistente de instalación para MS Windows
compatible con Windows 2000/XP/2003/Vista/7
Asistente de instalación para Mac OS X
Notificación por correo electrónico
Envía mensajes de sistema a través de correo electrónico al administrador del sistema
Otros
Papelera de reciclaje
Se admite
Disco web
Se admite
Montaje de imágenes ISO
Se admite
Instalación automática de módulos
El servidor modular de Thecus proporciona los módulos y actualizaciones más recientes automáticamente a través de la interfaz de usuario.
Contenido del paquete
| | | | |
| --- | --- | --- | --- |
| | | | |
| Accessory Bag | Ethernet Cable | Power Cord | Power Adaptor |
| | | | |
| Acronis True Image DVD | Universal CD | QIG | Warranty Card |
TV de Thecus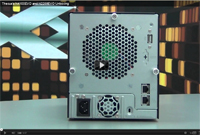 Thecus's N4100EVO and N2200EVO Unboxing
Thecus is well known in the market for always putting innovative hardware and state of the art technology on the table for a fair price in order to guarantee our customers the best value. Thecus's new N4100EVO NAS offer a broad range of advanced features and differentiate themselves with low-energy hardware for those who place strong value on cutting down their electricity costs and carbon footprint. This cost-effective hardware is the first four-bay NAS on the market to feature the speedy and efficient dual-core Cavium CPU to get the quick transfer speeds necessary for large backups and heavy use. The N4100EVO is designed to change the way you run your office, at home or at work.