Linux NAS | Grandes empresas- Rackmount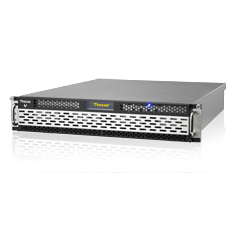 N8900V
High-value 8-bay NAS
Lista de compatibilidades
Características
Listo para 10 GbE
Los centros de datos de gama alta a menudo necesitan un nivel de velocidad que la media actual de Internet no puede proporcionar. Este servidor NAS de Thecus con 10 Gigabit Ethernet está listo para satisfacer las necesidades más exigentes de hoy y de mañana.

Conectividad USB 3.0
La próxima generación de conectividad está aquí con una velocidad 10 veces más rápida que USB 2.0. Ya esté conectando cámaras digitales y teléfonos inteligentes, realizando copias de seguridad de grandes discos duros externos o ampliando la capacidad del servidor NAS, la conectividad USB 3.0 garantizará que se realice en un instante a una velocidad máxima de 5 Gbit/s. La compatibilidad con versiones anteriores añade la conectividad de un mundo lleno de dispositivos USB 2.0 y USB 1.1 para obtener la mejor combinación de velocidad y acceso universal.

True Image de Acronis
Thecus proporciona lo mejor con el software de copia de seguridad avanzado de Acronis. Haga copias de seguridad de todos sus datos con la función Protección con un solo clic o elija solamente los archivos que más le interesen. Acronis ofrece una lograda interfaz, con un diseño sencillo y funciones globales que permiten mantener sus datos seguros.

DOM dual
Un Disk On Module (DOM) contiene todo el software importante del sistema. Si deja de funcionar por cualquier motivo, el firmware del sistema podría ser inaccesible, o peor aún. Con el diseño DOM dual (redundancia del SO) exclusivo de Thecus ®, un segundo DOM reprograma automáticamente el DOM primario si falla, lo que significa que sus datos estarán siempre seguros y accesibles.

RAID múltiple
Cuando se trata de la gestión de datos, el servidor NAS de Thecus realmente le otorga completa libertad. Puede crear varios volúmenes RAID, cada uno de los cuales compatible con diferentes modos RAID (RAID 0, 1, 5, 6, 10, 50, 60 y JBOD) para buscar su propio equilibrio entre rendimiento y protección de datos. En caso de que se produzcan fallos de funcionamiento en un disco duro, es muy sencillo el cambio gracias a la expansión y migración de RAID, el repuesto de emergencia y la reconstrucción automática.

Varis sistemas de archivos
Se admiten varios sistemas de archivos (EXT3, EXT4 y XFS) lo que proporciona la flexibilidad de los dispositivos NAS de Thecus para hacer frente a una gran cantidad de entornos diferentes. Los usuarios pueden utilizar diferentes sistemas de archivos en varios volúmenes RAID para obtener lo mejor de cada uno.



Aprovisionamiento fino iSCSI
Aproveche al máximo su espacio de almacenamiento con la velocidad extrema de iSCSI y la eficiencia del aprovisionamiento fino iSCSI. Conéctese a través de iSCSI para obtener la velocidad de transferencia de datos más rápida disponible y haga que el espacio desperdiciado en disco sea algo obsoleto con la funcionalidad de almacenamiento flexible de aprovisionamiento.

Conectividad iOS/Android
En el mundo moderno, nada es tan importante como que los datos lleguen desde cualquier lugar. Con T-OnTheGo y T-Dashboard, podrá gestionar su servidor NAS, así como cargar y descargar o transmitir secuencias desde el servidor NAS mediante un dispositivo iOS o Android sin interrupciones.

Rsync
Hacer copias de seguridad de los datos es muy necesario y todo el mundo tiene necesidades específicas cuando se trata de almacenamiento. La funcionalidad Rsync de Thecus proporciona a los usuarios gran flexibilidad con la función de copia de seguridad remota, un programador flexible y la estabilidad de la transferencia basada en Linux.

Cuotas de usuarios
Divida el almacenamiento masivo de un servidor NAS de Thecus entre varios usuarios. Ya haya dos usuarios o 100, las cuotas de usuarios facilitan el reparto y la gestión del espacio en disco.



Ranura PCI-e
Los productos NAS de Thecus están listos para una gama de tecnologías emergentes. A través de la ranura PCI-e integrada, los usuarios pueden añadir un adaptador 10 Gigabit Ethernet para velocidades de transferencia ultra rápidas, o una tarjeta de adaptador USB 3.0 para disfrutar de la próxima generación de conectividad.
Información general
Thecus saca una nueva línea de almacenamiento conectado a la red que cubre la demanda de un área de rápido crecimiento del mercado: gran capacidad, almacenamiento de alto valor. La serie de valor, o "V", complementa la línea completa actual de dispositivos NAS de Thecus poniendo a disposición de los usuarios la posibilidad de más valor y más potencia. Estos nuevos dispositivos NAS combinan la última línea de procesadores Intel® con el potente software de Thecus para presentar una solución que permite satisfacer un amplio espectro de necesidades informáticas y de almacenamiento empresarial y personal sin salirse de su presupuesto.
Creado para tareas empresariales
El modelo N8900V es una combinación de potencia y precio, funcionalidad y frugalidad: El nuevo Intel® Pentium™ G620, capaz de trabajar a una velocidad de 2,6GHz, satisface las exigencias de los usuarios y permite al modelo N8900V realizar múltiples tareas sin problemas, permitiendo la ejecución de actividades como la transferencia de datos, los servicios de servidores de red y la creación de RAID sin retrasos o desaceleraciones en el servicio.
El modelo N8900V coloca a los clientes que buscan un dispositivo NAS de 8 bahías ante una importante elección de gran valor y con un rendimiento y funcionalidad indiscutibles para los precios del mercado. El dispositivo avanza hacia el establecimiento de nuevos estándares en un entorno cada vez más inclinado hacia medidas de ahorro de costes que aún con todo, garantizan la integridad de datos y la funcionalidad profesional.
Potente versatilidad
El modelo N8900V es la mejor opción para las crecientes pequeñas y medianas empresas. Sus 24TB pueden utilizarse como concentrador de datos compartido, su conectividad iSCSI ofrece almacenamiento de aprovisionamiento flexible o una sencilla integración a entornos virtuales, su puerto USB 3.0 permite transferencias locales a gran velocidad y su Ethernet de 10 gigabits  prepara su configuración para el nuevo estándar de conectividad del centro de datos, entre otras muchas funciones. Incluso admite 10GBASE-T, ¡el protocolo que permite transferencias a gran velocidad (10 gigabits) sobre cables Ethernet de bajo coste, los cables habituales de Ethernet que todo el mundo tiene en casa! El modelo N8900V incorpora todas las funciones que puede ofrecer un dispositivo NAS profesional e incluso tiene algún as más en la manga.
Un gran número de funciones exclusivas de Thecus colocan al modelo N8900V muy por encima del resto. El dispositivo incorpora tres ranuras PCI-e para instalar tarjetas de expansión como Ethernet de 10 gigabits de gran velocidad y otras conexiones USB 3.0, cuenta con una salida HDMI para monitores locales sin equipo y una expansión ilimitada a través de las aplicaciones de Thecus y de otras marcas, y se une a otros dispositivos NAS empresariales de Thecus para convertir a Thecus en la única marca de NAS que admite unidades SAS de alta gama junto a las unidades HDD SATA estándar. En el mismo paquete, Acronis True Image ofrece a los usuarios una solución de copia de seguridad de software profesional y específicamente diseñada para simplificar las tareas de almacenamiento y copia de seguridad.
"A pesar de los ajustes en el presupuesto de TI, la necesidad de un dispositivo NAS de calidad y gran capacidad no ha sido nunca, paradójicamente, tan fuerte en los entornos profesionales. Combinando los estándares de calidad, las innovaciones y el hardware de alto valor de Thecus, la serie V ha sido diseñada para ofrecer a nuestros clientes soluciones alternativas y para ayudarles a gestionar sus recursos críticos sin limitar su presupuesto" afirma Florence Shih, Director General de Thecus Technology Corp.
Especificaciones
1.Hardware Platform
Item
Spec
Processor
Intel® Pentium® Processor G620 @ 2.6GHz
System Memory
2GB DDR3 SDRAM
LAN Interface (PCI-e)
RJ-45x3: Intel 82574L 10/100/1000 BASE-TX Auto MDI/MDI-X
WOL supported
USB Interface
USB 2.0 host port x6 (front x2, back x4) (Type A)
USB 3.0 host port x2 (back x2)
LED Indicator
Power: (blue)
System Busy: (yellow)
System Alert: Redundant power or system fan failure (red)
HDD 1-8 Activity/Fail (green/red)
OLED
Displays system status and information (Multilingual)
HDMI Output
HDMI port (back x1)
Audio
MIC input, Line input, Audio output
SAS/SATA controller (HBA), PCI-e (8-lane)
LSI 2008 HBA card supports 6G SAS/SATA (x8)
Disk Interface
8 x SATA/SAS for internal
1 x eSATA for external
Power Supply
Redundant power supply 350W or more
PCI-e Slots
8-lane (x3), One is used by SAS HBA
4-lane (x1)
1-lane (x1) used by CU30N (USB 3.0)
Thermal/Fan Control
Thermal sensor on processor temperature
CPU fan control
System Fan
Hot swappable (x2)
Buttons
Power button (Front, shutdown controlled by user interface)
LCM button (ENT, ESC, UP, DOWN)
System reset button
Locator button
RS232
1 (For UPS)
Environment
Temperature: 5°C to 40°C
Humidity: 0 ~ 80 % R.H. (Non-condensing)
Chassis
2U Rack mount
Dimensions (HxWxD)
87 x 438 x 595 (mm)

2. Software Functions
RAID
RAID Modes
RAID 0, 1, 5, 6, 10, 50, 60 and JBOD
Auto-rebuild
Supported
Hot-swap
Supported
Dedicated Hot Spare
Supported
Global Hot Spare
Supported
Online RAID Migration
Supported
Online RAID Expansion
Supported
RAID Volume Encryption
AES256bit
Disk
Power Management
Available spin-down while idle setting
Bad Block Scanning
Supported
SMART Info
Supported
SMART Test
Supported
Disk Roaming
Supports volume-based roaming to other Thecus NAS with matching Firmware line and the same or higher version number
Network
Configuration
Fixed IP address, dynamic IP address
IP Sharing Mode
Can be enabled/disabled
Transport Protocols
TCP/IP/AppleTalk
File Protocols
SMB/CIFS, HTTP/HTTPS, FTP, NFS v4, AFP
Link Aggregation
Load balance, Failover, 802.3ad, Balance-XOR, Balance-TLB, Balance-ALB
TCP/IP
IPV6 & IPV4
Data Access
Client OS Support
Windows XP and after
Windows Server 2003 and after
UNIX/Linux
Mac OS X
FTP
Built-in FTP server with bandwidth control
Secure FTP
Built-in secure FTP server with bandwidth control
TFTP
Users can download and upload files with TFTP programs
Download Manager
BT download (via Transmission module)
NZB download (via NZB module)
Printer Server (IPP)
Supports USB printers
Supports a wide range of IPP printers
Client can manage print tasks (list/delete) via web user interface
Data Backup
Client Incremental Data Backup
Acronis True image (OEM version)
Client System Disaster Recovery
Acronis True image (OEM version)
Client Side Backup Software
Thecus Backup Utility (Windows/Mac OS X)
Rsync Backup
Rsync replicates data between two systems (via Rsync module)
Mac OS X Time Machine
Supported
Block Level Access
iSCSI Target/Initiator
Supports Microsoft/Mac OS X/Linux initiators and Thecus NAS targets
iSCSI Thin Provisioning
Supported
MPIO
Supported
MCS
Supported
Clustering
Supported
SCSI3 persistent group reservation
Supported
Power Management
Scheduled Power On/Off
Supported
Volume Management
Multiple RAID
Supported
Multiple File System Selectable
EXT3/EXT4/XFS
Multimedia Support
iTunes Server
Supports AAC, MP3 w/ ID3 tag and WAV
Piczza!™ Web Server (via module)
Supports GIF, JPG (JPEG), BMP, PNG
Support EXIF display
Support slide show
Media Server
Support uPnP AV streaming protocol (via Twonkymedia module)
User Authentication
Local User
Supports built-in user accounts
Local Group
Supports built-in user groups
Windows ADS/LDAP
Supported
File System
Type
Journaling File System
Language Support
Unicode Support
Authorization (ACL)
"Read", "write", or "deny" privileges to individual users or groups in folders and sub-folders
User Quota
Supported
Administration
User Interface
Web-based user interface supports English, Traditional Chinese, Simplified Chinese, Japanese, Korean, French, German, Italian, Spanish, Russian, Polish and Portuguese
Utility Program
MS Windows Setup Wizard,
Supports Windows 2000/XP/2003/Vista/7
Mac OS X Setup Wizard
Email Notifications
Sends system messages via email to the system administrator
SNMP Trap
System information trap out
SSH
Supported
Mobile Applications (iOS/Android)
Thecus Dashboard
Mobile monitoring and administration (via module)
ThecusShare™
Uploading, downloading, and streaming multimedia
Others
Dual DOM
Supported
Recycle Bin
Supported
Web Disk
Supported (via module)
Web Server
Supported (via module)
ISO Mount
Supported
User/System Module
Supported
IP Cam Surveillance
Supports up to 10 IP cameras (via module)
Auto Module Installation
Thecus's module server automatically provides the latest modules and updates through the user interface
Window Manager
X-Window by HDMI output
Contenido del paquete
| | | | |
| --- | --- | --- | --- |
| | | | |
| Accessory Bag(with key) | Acronis True Image DVD | HDD Compatibility List Card | Sliding Shelves |
TV de Thecus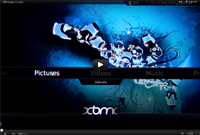 Local Display
Step by step process to install Thecus NAS to TV through HDMI output and use local display. How to access NAS admin UI page and XBMC to display music, movies and pictures.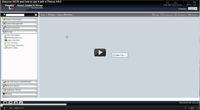 Discover iSCSI and how to use it with a Thecus NAS
This tutorial is separated in three parts. The first part will teach you what's iSCSI and how it can be used. The second and third part would be practical demonstration on iSCSI Target/Initiator. Only the second part requires a Thecus NAS!