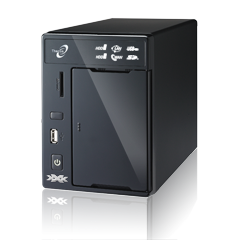 N2200XXX
Servidor NAS todo en uno de dos bahías y alto rendimiento
Lista de compatibilidades
Premios y análisis
Características
Velocidad extrema
Con el espectacular procesador Intel Atom D525, capaz de trabajar a una velocidad de 1,8 GHz, el dispositivo N2200XXX da mi vueltas a la competencia. Combinado con una memoria RAM DDR3 superrápida de 1 GB, el conjunto proporciona velocidades de transferencia increíbles y menos tiempos de espera.

Compatibilidad con la detección de bloques incorrectos
Explore sus discos para detectar problemas antes de que se manifiesten. Mediante las actualizaciones detalladas del estado del disco, puede proporcionar a sus discos la configuración y el entorno perfectos para mantener la integridad de los datos y un acceso sin interrupciones.

Protección excelente
Dé prioridad a la seguridad con el cifrado de volúmenes RAID AES de 256 bits y la funcionalidad de llave USB. Tiene a su disposición un muro infranqueable de protección para asegurarse de que solamente aquellas personas que desea, y solamente ellas, pueden acceder a sus datos. Simplemente establezca una llave de unidad flash USB que desbloquee sus datos sin complicaciones y con la máxima protección.

Flexibilidad excelente
Simplifique el acceso a sus cámaras digitales, teléfonos inteligentes, diccionarios electrónicos y otros dispositivos. El dispositivo N2200XXX admite lectores de tarjetas SD, SDHC y MMC, lo que permite acceder fácilmente a datos multimedia.

Pantallas de última generación
Supervise su dispositivo N2200XXX con una pantalla de LED de última generación. Esta funcionalidad mantiene la información importante de la actividad de los discos y del sistema justo en el lugar en el que se necesita con una tecnología de visualización adelantada su tiempo.

Compatibilidad con aprovisionamiento ligero iSCSI
Aproveche al máximo su espacio de almacenamiento con la increíble velocidad de la tecnología iSCSI y la eficiencia del aprovisionamiento ligero iSCSI. Realice las conexiones a través de iSCSI para disponer de las velocidades de transferencia de datos más rápidas y olvídese del espacio en disco desperdiciado gracias a la funcionalidad de almacenamiento flexible del aprovisionamiento ligero.
Información general
La nueva línea XXX de dispositivos NAS de Thecus lidera la forma de satisfacer sus necesidades. Estos dispositivos NAS de Thecus ofrecen la alimentación Xtreme, la función Xtreme y el valor Xtreme. Tanto en productos robustos a un precio económico como en dispositivos NAS ultraversátiles para entendidos en tecnologías, cada modelo está pensado al detalle para usted. Desde productos de 2 bahías extremadamente veloces pensados para la oficina doméstica hasta unidades de 8 bahías para montaje en bastidor increíblemente versátiles diseñadas para las empresas más exigentes, el dispositivo NAS XXX de Thecus está preparado para usted.
La nueva era de dispositivos NAS requiere productos serios para necesidades serias. Una y otra vez, Thecus ha proporcionado productos que van un paso más allá de las necesidades de los usuarios, serios e informales, en términos de rendimiento, funcionalidad y precio. Incorporando primero el procesador Intel Atom D525 en nuestro dispositivo NAS N4200PRO y N4200Eco de 4 bahías, Thecus comprobó lo que este procesador era capaz de hacer. Para proporcionar a las pequeñas y medianas empresas, y a los usuarios avanzados domésticos lo que necesitan para lograr cantidades masivas de datos y grandes transferencias de archivos, sabían que el procesador Atom  D525 en un dispositivo NAS de 2 bahías era la solución perfecta. Para complementar al procesador D525, el dispositivo N2200XXX se reforzó con memoria RAM DDR3 de última generación para aumentar aún más la velocidad a través de la placa base. Gracias a esta combinación se lograron transferencias superiores a 90 MB/s en el dispositivo N4200PRO, ¡y el dispositivo N2200XXX funciona incluso más rápido!
Otra fantástica función del dispositivo N2200XXX es la conectividad incorporada de tarjetas SD, SDHC y MMC. Almacenar música, fotografías y vídeos nunca había sido tan sencillo y rápido con el lector de tarjetas integrado.
La protección y eficiencia también se han reforzado para proporcionar tranquilidad y aprovechar al máximo el espacio de almacenamiento. El cifrado de volúmenes RAID de 256 bits AES y la funcionalidad de llaves USB le proporciona la suficiente versatilidad para transportar la seguridad de los datos a un nivel superior. Las transferencias y el aprovisionamiento ligero iSCSI proporcionan la conectividad del protocolo más rápido conocido y un espacio en disco perfectamente distribuido para varios usuarios. Con el aprovisionamiento ligero, el espacio asignado de los usuarios se reduce y aumenta automáticamente conforme a sus necesidades específicas. Estas funciones, entre otras muchas, colocan al dispositivo N2200XXX de Thecus por delante de la competencia y lo convierten en la elección perfecta para los usuarios domésticos que ansían versatilidad.
Especificaciones
1.Hardware Platform
Item
Spec
Processor
Intel® Atom™ D525 1.8GMhz Processor
System Memory
1 GB DDR3 SODIMM
LAN Interface
RJ-45x2 : 10/100/1000 BASE-TX Auto MDI/MDI-X
LED indicator
Power(Blue)
HDD1-2 Activity/Fail(Blink white/Red)
WAN (Link : Solid white; Activity : Blink white)
LAN (Link : Solid white; Activity : Blink white)
USB (Copy LED: Blink white)
Card Reader (Copy LED: Blink white)
Disk interface
SATA x2 , 1x eSATA for external
Power
60W external power adaptor
USB Interface
USB 2.0 host port x3 (Front x1, Back x2) (A Type)
Card Reader
Support SD/SDHC/MMC
Thermal/Fan control
Thermal sensor on processor temperature
System FAN speed controlled by temperature.
Real-time clock
Battery backup system clock
PCI-e x1 slot
1
Power management
Power on after power lose resume
Buttons
Power button
USB copy button
Buzzer
Frequency Controllable
Chassis
2bays Tower Metal Chassis
Environment
Temperature : 5°C to 40°C
Humidity : 0 ~ 80 % R.H. (Non-condensing)

2. Software Functions
RAID
RAID modes
RAID 0, 1 and JBOD
Auto-rebuild
Supported
Hot-swap
Supported
Hot Spare
Supported
RAID Volume Encryption
AES256bit
Disk
Power management
Spin down while idle time setup
Bad Block Scan
Supported
SMART Info
Supported
SMART Test
Supported
Roaming
Supports roaming to other N2200XXX
Network
Configuration
Fixed IP Address, Dynamic IP Address
IP sharing mode
Can be enable/disabled
Transport Protocols
TCP/IP/Appletalk
File Protocols
SMB/CIFS, HTTP/HTTPS, FTP, TFTP, NFS v3, AFP
Link Aggregation
6 modes supported:
1. Local balance
2. Failover
3. Balance-XOR
4. 802.3ad
5. Balance-TLB
6. Balance-ALB
Data Access
Client OS support
Windows XP and after
Windows Server 2003 and after
UNIX/Linux
Mac OS X
WebDisk(module)
Web-based file access
TFTP
Build in TFTP Server
FTP
Build in FTP Server with bandwidth control
Secure FTP
Build in secure FTP Server with bandwidth control
Download Manager (Module)
HTTP / FTP / BT / eMule / NZB
Printer Server (IPP)
Supports USB printers
Supports IPP various printers
Client can manage print tasks (List/Delete) via Web user interface
Data Backup
Client schedule incremental data backup
Acronics True Image (OEM)
Client system Disaster Recovery
Acronics True Image (OEM)
USB/card reader device copy to N2200XXX
Through one button copy
Snapshot
Supported
Bi-directional USB Copy (Module)
Supported
Native Rsync
Supported
Block Level Access
iSCSI Target
Supports Microsoft/Mac/Linux Initiator
iSCSI initiator
For stackable with other Thecus NAS which support stackable
iSCSI Thin Provisioning
Configurable to virtual size as system allowed capacity
Power management
Schedule power on/off
Supported
Volume management
Multiple file system selectable
EXT3 / EXT4 / XFS / ZFS
Multimedia Support
iTunes Server
Supports AAC, MP3 w/ ID3 tag and WAV
Photo Web Server
Supports GIF, JPG (JPEG) and PNG
Supports EXIF display
Supports slide show
Media server
Supports uPnP AV streaming protocol
User Authentication
Local User
Supports built-in user accounts
Local Group
Supports built-in user groups
Windows NT/ADS
Supported
File System
Type
Journaling File System
Language Support
Unicode Support
Authorization (ACL)
Read, Write or Deny options on individual users or groups for share and sub-folders
Administration
Multi-Lingual Web-based administration
Web-based server management Interface Supports English, Traditional Chinese, Simplified Chinese, Japanese, Korean, French, German, Italian, Spanish, Russian Polish and Portugal
Utility Program
MS Windows Setup Wizard,
Supports Windows 2000/XP/2003/Vista/7
Mac setup Wizard (OS X only)
Email notification
Sends system messages via Email to system administrator
SNMP trap
System information trap out
Others
Web Disk (Module)
Supported
User Quota
Supported
Recycled bin
Supported
Web Server (Module)
Supported
ISO Mount
Supported
User module
Supported
IP CAM surveillance (Module)
Supports up to 5 IP CAM
Contenido del paquete
Accessory Bag
Ethernet Cable
Power Cord
Power Adaptor
Acronis True Image DVD
Universal CD
QIG
Warranty Card
HDD Compatibility List Card
Guías de uso
TV de Thecus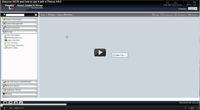 Discover iSCSI and how to use it with a Thecus NAS
This tutorial is separated in three parts. The first part will teach you what's iSCSI and how it can be used. The second and third part would be practical demonstration on iSCSI Target/Initiator. Only the second part requires a Thecus NAS!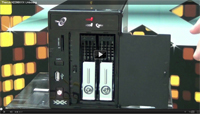 Thecus N2200XXX Unboxing
While the N2200XXX has been praised by the press worldwide, you can now discover it live during this unboxing. After the traditional unboxing, you'll see how the SD cards reader is working and what's happening if one of your disk is failing.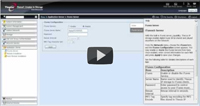 The basics of Thecus Firmware V5
Learn more about the brand new Firmware V5 for Thecus NAS. This video focus on UI improvements, user-friendliness features, and the new AMI (Auto Module Installation) which allows you to customize your NAS in a few clics. Live video starts at 2:18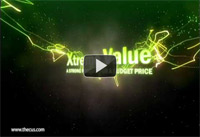 Thecus xXx series NAS
The new XXX line of Thecus NAS is leading the way in catering to your needs. With Xtreme power, Xtreme function, and Xtreme value, these Thecus NAS deliver. Whether it be a strong product for a budget price or a high-powered NAS for the tech-savvy, each model is extremely geared towards fitting you. From an extremely speedy 2-bay for your home office to an extremely powerful 8-bay rackmount for even the most demanding enterprise, Thecus XXX NAS are ready for you.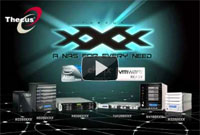 Thecus XXX Series Official Trailer
The new XXX line of Thecus NAS is leading the way in catering to your needs. With Xtreme Power, Xtreme Function, and Xtreme Value, these Thecus NAS deliver.