Dispositivo de EXP./Otros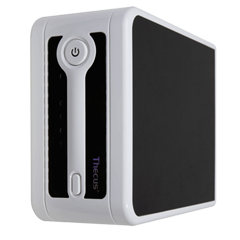 N2050
Experience the speed of 3Gb/s on the world first eSATA on DAS
Lista de compatibilidades
Características
Hardware RAID
* Striping (RAID 0)
* Mirroring (RAID 1)

eSATA – up to 3.0 Gbps

USB 2.0 – up to 480 Mbps

Plug-n-play

Up to 1 TB total capacity
Información general
Too much digital media to handle, and not enough time to enjoy it? Thecus Technology, leading maker of quality digital data storage devices, is proud to introduce the N2050, the world's first eSATA on DAS. With its innovative eSATA interface, large storage space, and attractive styling, the N2050 is the ideal storage device for media buffs that have a large media collection, and need to access it in a hurry.

The N2050 is the first DAS storage device to feature a high-speed eSATA interface. With eSATA, the N2050 boasts up to 3Gb/s of data transfer speed – that's six times faster than high-speed USB 2.0! Why wait for digital data when you can be enjoying it? With eSATA, users can access their photos, songs, and files faster than ever before. Don't have an eSATA interface? Not a problem. The N2050 is a SATA/USB dual mode device, which means it can use the ubiquitous USB 2.0 interface as well. With the N2050, you can enjoy your digital data your way.

Have a huge media collection? With two 3.5" SATA drive bays, the N2050 can accommodate up to two SATA hard disks up to 500GB in size for a massive 1 terabyte (TB) of storage! With enough storage for about 1,000,000 photos and 250,000 songs, the N2050 is ideal for the media enthusiast. To keep your data safe, the N2050 comes standard with a hardware RAID controller, which can be configured RAID 1 for increased data security. With RAID 1, the N2050 automatically saves your data on two hard disks, allowing you to easily replace once should one fail. Alternatively, RAID 0 can be used for increased disk performance.
| | |
| --- | --- |
| | Setting up the N2050 is an absolute breeze. Simply install your hard disks, connect the N2050 to your PC or notebook, plug it in, and turn it on. No drivers to install, no fuss, no muss. Designed for hassle-free installation, the N2050 can be setup and running in a matter of minutes. With Plug-n-Play capability, the N2050 is also compatible with Windows and Mac OS X environments right out of the box. |
With its clean design and powerful features, the N2050 is the first eSATA on DAS, noted Thecus CEO Edwin Lin. "We think that the N2050 is a real boon for users with large media collections requiring more storage with minimal hassle."
Especificaciones
Hardware Specifications
Storage

 

HDD Bays

2 x bays of 3.5" SATA HDD

HDD Capacity

80/120/160/200/250/300/
400/500GB
 

RAID Controller

Hardware RAID

 

RAID Levels

Stripping (RAID 0)
Mirroring (RAID 1)

External Interfaces

 
SATA/USB Dual Mode
USB 2.0
eSATA
Up to 480Mbps
SATA I – Up to 1.5Gbps
SATA II – Up to 3Gbps

Installations

 
Plug-n-Play
No drivers required for Windows/MAC OS X/Linux

Physical & Dimensions

 

Width

160mm

 

Height

85mm

 

Depth

200mm

 

Weight

1.3KG

 

Available colors

Green, Blue

Power Requirements

 

AC Voltage

100~240 VAC

 

Frequency

47~63 Hz AC

System Requirements

 
Microsoft Windows 2000, XP, 2003
Mac OS X
Linux

Warranty

 

One year limited warranty

 
 
 
Contenido del paquete
Ethernet Cable
Power Cord
Universal CD
QIG
Warranty Card