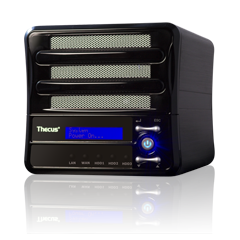 N3200PRO
El modo RAID 5 llega al hogar
Lista de compatibilidades
Características
NAS de 3 bahías mejorado con un rendimiento altamente elevado
Con el compromiso de proporcionar los máximos niveles de rendimiento y protección, Thecus se complace en presentar el modelo N3200PRO, un NAS de tres bahías completamente renovado. Equipado con una CPU AMD Geode™, el modelo N3200PRO proporciona la potencia necesaria para transferir archivos rápida y eficazmente. Dotado de poderosas opciones RAID (incluyendo el modo RAID 5), una pantalla LCM integrada y una velocidad de datos enormemente mejorada, el modelo N3200PRO redefine de nuevo el concepto de NAS de tres bahías por medio de mayores niveles de usabilidad, funcionalidad y rendimiento.

Administración de discos sencilla
Thecus es una empresa conocida por hacer fáciles las cosas, y el modelo N3200PRO no es una excepción. Gracias a su sistema de administración de discos, diseñado exclusivamente para este equipo, instalar y desinstalar discos es coser y cantar. Ello permitirá al usuario pasar más tiempo disfrutando de sus medios digitales y menos configurando parámetros.

Pantalla LCM
La cómoda pantalla LCM con la que está equipado el modelo N3200PRO facilita su administración, incluso en entornos de iluminación reducida, como ocurre durante la reproducción de una película en un salón.

NAS doméstico con protección RAID 5
Nuestro NAS doméstico más avanzado hasta el momento. El modelo N3200PRO es el primer dispositivo de este tipo en ofrecer protección RAID 5, una combinación perfecta entre protección de datos y rendimiento. Disfrute de la velocidad de una matriz dividida en franjas con la seguridad de una completa redundancia de los datos. ¿Qué podría ser mejor?

Funciones orientadas al uso doméstico
El modelo N3200PRO es perfecto para el hogar. Su servidor multimedia facilita las conexiones con dispositivos compatibles con DLNA. Su Servidor de iTunes® ofrece funciones de transmisión de música a todo el hogar, mientras que el Servidor Web de Fotografías permitirá al usuario compartir sus mejores fotografías con cualquier usuario de la red. Sin lugar a dudas, el modelo N3200PRO hace realidad el estilo de vida digital.

Compatibilidad con conectividad inalámbrica
Su función opcional de conexión inalámbrica por medio de un dispositivo USB compatible permite al usuario acceder a sus archivos multimedia sin necesidad de instalar incómodos cables.

Diseño elegante
Sus líneas limpias y su sofisticada elegancia hacen del modelo N3200PRO un dispositivo perfecto tanto para un estudio como para un salón. Su distinguido diseño hace de él un equipo que el usuario deseará enseñar.
Información general
The N3200 from Thecus has been finding its way into living rooms and home offices around the world thanks to a ton of friendly features, large capacity, and RAID 5 security. Today, Thecus is pleased to announce a successor to this groundbreaking product: the N3200PRO. Featuring the power of an AMD Geode™ CPU, the N3200PRO takes everything you love about the N3200 and improves its performance even further.
Under its svelte 160 x 170 x 215 mm exterior, the N3200PRO is powered by an AMD Geode™ CPU for superb performance while maintaining low power usage. With its three SATA drive bays, the N3200PRO accommodates up to 6TB of storage, and gives users the option of RAID 5. With RAID 5, home users can enjoy the speed of a striped array with the security of complete data redundancy. The N3200PRO retains its completely tool-less design, which makes installing and removing disks is a snap and a handy LCD display informs users of system status, and enables easy system management in dimly-lit environments. Thecus' web-based management system makes a return to the N3200PRO, allowing users to configure and manage the unit through any browser connected to the network, and with USB wireless dongle compatibility, users can even connect to the N3200PRO without being tangled up with wires.
As a NAS for the home, the N3200PRO also comes with a selection of friendly features that enable the digital lifestyle. A built-in iTunes® Server makes it easy to stream an entire music library over the network, while a Photo Web Server enables users to share and enjoy photos with friends and relatives. A DLNA-compatible Media Server is also included, making the N3200PRO an ideal device to stream digital content to DLNA-compatible devices. The N3200PRO can also keep an eye on things at home with its Web Surveillance Server. Just plug in a compatible USB webcam and the N3200PRO can take scheduled snapshots – all without having a PC turned on! Powerful features and performance makes the N3200PRO the ideal NAS server for the home.
"The N3200 brought RAID 5 to the realm of home NAS units, and the N3200PRO is our follow up to this groundbreaking device," says Thecus General Manager Florence Shih. "With an AMD Geode™ processor at its core, users are really going to love the improved performance and system response of the N3200PRO."
Especificaciones
1. Hardware Platform
Item

Spec

LAN Interface

RJ-45x2 : 10/100/1000 BASE-TX Auto MDI/MDI-X

USB Interface

USB 2.0 host port x2(Front x1, Back x1)

LCD Module

Displays system status and information

Power supply

External AC power adaptor

Disk interface

SATA x3 via backplane

LED indicator

Power(Blue)
HDD1 Failed/Activity(Red/Orange)
HDD2 Failed/Activity(Red/Orange)
HDD3 Failed/Activity(Red/Orange)
WAN (Link : Green; Activity : Orange)
LAN (Link : Green; Activity : Orange)

eSATA Interface

eSATA port X1 (Back)

Thermal/Fan control

Thermal sensor on HDD and processor
temperature
System FAN speed controlled by temperature


Buttons

Power button
LCM operating buttons (Front)
Reset to factory default button (Back)

Environment

Temperature : 5°C to 40°C
Humidity : 0 ~ 80 % R.H. (Non-condensing)
2. Software Functions
RAID

RAID Mode

RAID 0, 1, 5 and JBOD

Auto-rebuild

Supported

Hot-swap

Supported

Network

Configuration

Fixed IP Address, Dynamic IP Address, DDNS

IP Sharing Mode

Supports WAN port IP address sharing for
LAN and Wireless LAN clients

Transport Protocols

TCP/IP/Appletalk

File Protocols

SMB/CIFS, HTTP/HTTPS, FTP, NFS, AFP

User Authentication

Local User

Supports built-in user accounts

Local Group

Supports built-in user groups

Microsoft AD

Supports AD users/groups

Data Access

Client OS support

Windows 7/2000/XP/2003/Vista
UNIX/Linux
Mac OS 9 / X

WebDisk

Web-based file access

FTP

Built in FTP server with bandwidth control

Download Manager

HTTP / FTP / BT

Printer Server (IPP)

Supports USB printers
Supports IPP various printers
Client can manage the print job queue on WEB interface

Data Backup

USB Copy Via LCD Operate

Copy USB Mass storage device contents to specified location to NAS

NAS Remote Replication

Via Thecus proprietary Nsync

Multimedia Support

Web Cam

Supports Capture, preview, schedule
Supports image size : 160 x 120, 320 x 240, 640 x 480

Photo Web Server

Supported File Types: GIF, JPG (JPEG), BMP, PNG
Supports EXIF display
Supports slide show

Media Server

Supports uPnP AV streaming protocol
Works with DLNA-certified players

iTunes Server

Supported File Types: AAC, MP3 w/ ID3 tag, WAV

File System

Type

Journaling File System

Capacity

6TB or above

File Sizes Supported
Supports Files max : 2TB

Language Support

Unicode Support

Authorization

Read, Write or Deny options on individual users or groups

Administration

Multilingual Web-based Administration

Web-based server management Interface Supports English, Traditional Chinese, Simplified Chinese, Japanese, Korean, French, German, Italian, Spanish

Utility Program

Setup Wizard for MS Windows/MAC OSX
Backup Utility for MS Windows/MAC OSX

Email notification

Sends system messages via Email to the system administrator
Contenido del paquete
Accessory Bag
Ethernet Cable
Power Cord
Power Adaptor
Acronis True Image DVD
Universal CD
QIG
Warranty Card
HDD Compatibility List Card