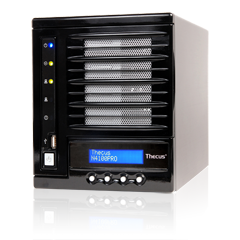 N4100PRO
Velocidad sin comparación y total protección
Lista de compatibilidades
Premios y análisis
Características
Información rápida acerca del sistema
Equipado con un módulo LCM grande y brillante, el modelo N4100PRO muestra mensajes de estado de gran utilidad, como su dirección IP, la fecha y la hora y el estado del volumen RAID: toda la información que precisa un usuario para controlar el estado de su dispositivo N4100PRO. Gracias al módulo LCM, los usuarios del modelo N4100PRO pueden incluso configurar el equipo en un salón de iluminación reducida, lo cual aporta aún mayor comodidad.
Opciones flexibles de almacenamiento seguro
El modelo N4100PRO también mejora a su predecesor al disponer de los modos RAID 6 y RAID 10, que ofrecen a los usuarios aún más opciones de almacenamiento de datos. Además, el modelo N4100PRO admite también funciones de expansión RAID, permitiendo así al usuario agregar más espacio de almacenamiento a sus volúmenes RAID conforme crezcan sus necesidades. El modelo N4100PRO permite a sus usuarios disfrutar de la flexibilidad necesaria para almacenar sus datos a su manera.
Fiabilidad de red extrema
Tener la posibilidad de conectarse a su sistema de almacenamiento en todo momento es fundamental. Por esta razón, el modelo N4100PRO está equipado con enlaces de red dotados de funciones de conmutación por error. Esta característica concede al modelo N4100PRO la posibilidad de conmutar la comunicación automáticamente a su segundo puerto Gigabit Ethernet si el primero falla por cualquier motivo. El resultado para los usuarios del modelo N4100PRO es la eliminación de los tiempos de inoperatividad de la red y una mayor fiabilidad.
Rendimiento mejorado
Aquellos que ya se encuentren familiarizados con los productos Thecus conocerán su excelente rendimiento. En el caso del modelo N4100PRO, Thecus ha apostado por superar el doble de la velocidad de transferencia de datos que ofrecía su predecesor, ¡ofreciendo una velocidad de 35 MB / segundo! Equipados con el N4100PRO, los amantes de los contenidos multimedia y SMB no tendrán que esperar un segundo para acceder a sus datos.
Información general
Beginning with the introduction of the N4100 NAS device, Thecus has rocked the world of digital storage with innovation after innovation. Today, Thecus is proud to reveal the brand new 4-bay NAS – N4100PRO. With powerful new RAID options, a built-in LCD, and vastly improved data throughput, the N4100PRO ups the ante once again with increased usability, functionality, and performance.
Powered by the AMD Geode™ LX800 processor and 256MB of DDR400 memory, the N4100PRO delivers the raw horsepower required to transfer files quickly and efficiently. With updated hardware and a ton of performance improvements, the data transfer speed of N4100PRO doubles that of the original N4100! Four 3.5" SATA hard disk bays enable sufficient storage for all usages, and users can manage this space with an updated list of RAID mode selections, including 0, 1, 5, 6, 10 and JBOD. The N4100PRO also offers advanced RAID management features, including RAID expansion and RAID level migration for ultimate flexibility. To top it off, the N4100PRO comes equipped with a big, bright LCM module, which displays useful status messages such as IP address, date and time, and RAID status, making it easy for users to keep an eye on the condition of their N4100PRO. With features like these, the N4100PRO is easier to manage than ever.

"The feature-rich Thecus N4100PRO combines innovative design and the low-power, high-performance of the AMD Geode processor to deliver a robust storage solution," said Buddy Broeker, director of AMD's Embedded Computing Solutions Division.  "The N4100PRO offers a compelling solution for households to easily store and share their digital media throughout the home network."
Of course, raw performance is nothing without reliability, and the N4100PRO delivers this in spades. On the back of the N4100PRO are two Gigabit Ethernet ports that come with network bonding in fail over mode. With this feature, the N4100PRO can automatically switch to its second Gigabit Ethernet port should the first one fail for any reason. To ensure quality of service, the N4100PRO also comes equipped with link aggregation with 802.3ad and load balancing. The result is a zero network downtime and increased reliability for N4100PRO users.
The N4100PRO also brings a huge selection of useful features to the table. To keep multimedia moguls happy, the N4100PRO can act as a media server, iTunes server, and photo web server at the drop of a hat. The included download manager makes it easy to schedule and download BT, HTTP, and FTP downloads during off-peak hours, and IP Cam support allows users to turn their N4100PRO into a home surveillance unit. The N4100PRO can mount ISO files and share them across the entire network, and users can even further expand its functionality with module support.
"We created the N4100PRO with speed and total security in mind," notes Thecus General Manager Florence Shih. "With new features, increased reliability, and enhanced performance, users will discover that the N4100PRO is a more than worthy successor for the four-bay N4100 that started it all."
Especificaciones
1. Hardware Platform
Item

Spec

LAN Interface

RJ-45x2 : 10/100/1000 BASE-TX Auto MDI/MDI-X

USB Interface

USB 2.0 host port x3 (2xRear, 1xFront)

LED Indicator

Power(Blue)
System Busy (Orange)
HDD1 Power, Activity/Fail(Blue, Yellow/Red)
HDD2 Power, Activity/Fail(Blue, Yellow/Red)
HDD3 Power, Activity/Fail(Blue, Yellow/Red)
HDD4 Power, Activity/Fail(Blue, Yellow/Red)
WAN (Activity : Green, WOL supported)
LAN (Activity : Green, WOL supported)
System Failure (Red)

LCD Module

Displays system status and information

Power Supply

Internal 200W power supply

Disk Interface

SATA x4 via backplane

Thermal Control

Thermal sensor on HDD temperature
System temperature control

Buttons

Power button
LCM operating buttons(Front)

Chassis

Metal Chassis

Environment

Temperature : 5°C to 40°C
Humidity : 0 ~ 80 % R.H. (Non-condensing)

Power Consumption

Standby mode: 62W
Full Loading: 84W with 1.5TB Seagate * 4 HDD installed

Sound Pressure Level

Without HDD: 21.3 dB(A)
With HDD: 23.9 dB (A) with 1.5TB Seagate * 4 HDD installed
2. Software Functions
RAID

RAID Modes

RAID 0, 1, 5, 6,10, JBOD

Auto-Rebuild

Supported

Hot-Swap

Supported

RAID Expansion

Supported

RAID Level Migration

Supported

Disk

Power Management

Spin down while idle time setup

Roaming

Support roaming to other N4100PRO NAS

S.M.A.R.T

Supported

Network

Configuration

Fixed IP Address, Dynamic IP Address, Jumbo Frame

IP Sharing Mode

Supports WAN port IP address for LAN and Wireless LAN clients

Bonding

802.3ad, Load Balancing, FailOver

Transport Protocols

TCP/IP/Appletalk

File Protocols

SMB/CIFS, HTTP/HTTPS, FTP, NFS, AFP

Data Access

Client OS Support

Windows XP and after
Windows Server 2003 and after
UNIX/Linux
Mac OS X

WebDisk

Web-based file access

FTP

Built in FTP server with bandwidth control

Download Manager

HTTP / FTP / BT

Printer Server (IPP)

Supports USB printers
Supports IPP various printers
Client can manage the print job queue via WEB interface

Data Backup

USB Copy Via LCM Operate

Copy USB Mass storage device contents to specified location to NAS

Client Schedule Incremental Data Backup

Acronis True image(OEM version)

Client System Disaster Recovery

Acronis True image(OEM version)

NAS Remote Replication

Via Thecus proprietary Nsync

Multimedia Support

iTunes Server

Supported File Types: AAC, MP3 w/ ID3 tag, WAV

Photo Web Server

Supported File Types: GIF, JPG (JPEG), BMP, PNG
Supports EXIF display
Supports slide show

Media server

Supports uPnP AV streaming protocol
Works with DLNA-certified players

User Authentication

Local User

Supports built-in user accounts

Local Group

Supports built-in user groups

Microsoft AD

Supports AD users/groups

File System

Type

Journaling File System

Capacity

8TB


File Size Supported

Support Files max : 2TB

Language Support

Unicode Support

Authorization

Read, Write or Deny options on individual users or groups

Administration

Multilingual Web-based administration

Web-based server management Interface Supports English, Traditional Chinese, Simplified Chinese, Japanese, Korean, French, German, Italian, Spanish

Utility Program

Setup Wizard for MS Windows/MAC OSX
Backup Utility for Windows 2000/XP/2003Vista and MAC OSX

Email notification

Sends system messages via Email to the system administrator
Contenido del paquete
| | | | |
| --- | --- | --- | --- |
| | | | |
| Accessory Bag(with key) | Ethernet Cable | Power Cord | Acronis True Image DVD |
| | | | |
| Universal CD | QIG | Warranty Card | HDD Compatibility List Card |
Guías de uso
TV de Thecus