Dispositivo de EXP./Otros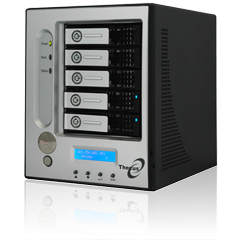 i5500
Unrivaled performance and security for modern enterprises
Lista de compatibilidades
Características
Unparalleled Performance
For users that need their data in a hurry, the i5500/i4500R has them covered. The i5500/i4500R brings unparalleled data throughput via iSCSI. With a powerful Intel® XScale CPU and 512MB of DDR memory, the i5500/i4500R delivers blazing performance for even the most demanding storage user.

Uninterrupted RAID Capacity Expand
Need to add more storage capacity to the i5500/i4500R but can't afford the downtime? The i5500/i4500R features online RAID capacity expansion, which means that users can have bigger hard disks added to available slot and joining an existing RAID without having to power down the system. The i5500/i4500R will automatically rebuild your RAID array and increase your storage capacity with zero downtime.

Dynamic Volume Management
With the i5500/i4500R, flexibility is the name of the game. With the i5500/i4500R, users can change volume sizes on the fly without having to reboot or restart the system. Is your database starting to outgrow the space you originally allocated it? Simply reconfigure the volume from the web interface and assign unused capacity to your existing volume without any service interruptions.

Cost Effective
The i5500/i4500R is far and away the price/performance leader. Instead of setting up a costly and complicated fiber channel network throughout your office for block level data sending, the i5500/i4500R accomplishes this via iSCSI. With the i5500/i4500R, users can obtain close to fiber channel class performance at a fraction of the cost.

Easy Integration
With its dual Gigabit Ethernet ports, the i5500/i4500R was designed to be easily integrated into existing network infrastructures. Simply connect the i5500/i4500R to your Ethernet network and begin enjoying legendary Thecus performance and data security.
Información general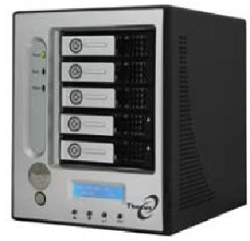 In 2007 Thecus released its flagship N5200 PRO NAS storage device. Aimed at SMBs, the N5200 PRO offered incredible performance and a feature set that was never before seen on such a compact unit. This year, Thecus is poised to raise the bar yet again with its most powerful storage device yet – the i5500. Delivering unprecedented iSCSI performance, uninterrupted data capacity expansion, and air-tight security in a cost effective package, the i5500 offers an unbeatable value proposition for enterprises looking to store and secure mission-critical data.
When businesses need access to their data, they need it fast. The i5500 comes with in Intel® Xscale IOP80331 CPU and 512MB of DDR memory under the hood. This enables the i5500 to deliver incredible iSCSI performance – up to twice the performance of its predecessor the N5200 PRO! With block level data transmission over regular Ethernet, businesses can forgo the prohibitive costs of implementing a fiber channel network altogether. The i5500 comes with five hot-swappable SATA drive bays that accommodate up to 5TB of storage. A wide selection of RAID modes including RAID 0, 1, 0+1, 3, 5, 6, 10, and JBOD as well as instant RAID volume availability, auto volume rebuilding, and support for up to 256 logical volumes offers unbeatable flexibility. And because downtime equals lost revenue, the i5500 also features online RAID expansion allowing businesses to increase their storage capacity without taking down their system. With the i5500 businesses can rest easy knowing they can access their data at all times.
Of course, keeping data safe and secure is also of prime importance. Included with the i5500 is Logical Unit Number (LUN) support, enabling administrators to specify read and write access to specific hosts accessing the unit through the iSCSI protocol. The i5500 also packs advanced data protection capabilities in its compact housing, including Local N-way mirroring, offline array roaming and smart faulty sector relocation. Compatibility with all major operating systems including Windows NT/XP/2003/Vista, Mac OS 9.1 and above including OSX, OSX Server and XSERVE, and all Linux builds with SCSI support ensures seamless integration with existing corporate environments. Administration can be conveniently performed through Thecus' sterling web interface, and should something go amiss, the i5500 can notify administrators immediately via email or SNMP trap.
"We created the i5500 with total performance and security in mind," notes Thecus General Manager Florence Shih. "Following in the footsteps of our acclaimed N5200 PRO, the i5500 represents a new industry benchmark for enterprise-level data storage devices, and is ideal for businesses looking for block level data transmission without the hassle and expense of fiber channel."
Especificaciones
Key Components
CPU: Intel Xscale IOP80331
Memory: 512MB DR333 DIMM supported
UARTs: Supports of serial interface of UPS.
Fast Ethernet port: For Web-based management use.
Microsoft Multipath I/O support (MPIO)
Front-end: One Intel GbE controller with two gigabit Ethernet ports.
LCM supported for easy management use.
NVRAM for IO transaction record
Max. system capacity 1TB x 5
Hot Swappable
Enclosure Monitoring
UPS management via the specific serial port
3.3V, 5V and 12V voltage monitor
Thermal sensor x 3 on controller board
RAID & Volume Operation
RAID level: 0,1,0+1,3,5,6,10 and JBOD
Up to 256 logical volumes in the system
Global and dedicated hot spare disks
Write-through or write-back cache policy for different application usage
Dedicated or shared cache allocation for volume usage
Multiple RAID volume support
Configurable RAID stripe size
Online volume expansion
Instant RAID volume availability
Auto volume rebuilding
On-line volume migration
Management Interface
Management via web UI.
Online system firmware upgrade mechanism
Event notification via Email and SNMP trap.
Run-time IO transactions recording
Built-in LCD module to control most enclosure components
Advanced Data Protection
Local N-way mirror
Offline array roaming
Smart faulty sector relocation
Physical & Environment
Operating Temperature 10°C ~ 35°C
Non-Operating Temperature -10°C ~ 50°C
Operating Humidity 20% to 90% non-condensing
Supported Operating System
Windows XP Pro/2003/Vista
Mac 9.1 and above, including OSX, OSX Server, XSERVE
Linux (all latest builds) which support SCSI.
And all other systems supporting SCSI protocol
Contenido del paquete
Accessory Bag(with key)
Ethernet Cable
Power Cord
Universal CD
Warranty Card