Linux NAS | Grandes empresas- Torre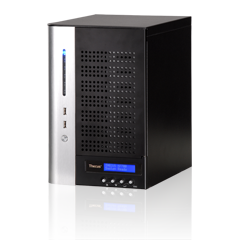 N7700
El sistema de almacenamiento conectado a la red más moderno
Lista de compatibilidades
Premios y análisis
2009-11-20
Media: iTHome | Country: Taiwan

"Thecus fue el primer fabricante en integrar la función de destino iSCSI en un dispositivo NAS. Su anterior modelo, el N5200, fue también el primer dispositivo NAS de escritorio de Taiwán con funciones iSCSI integradas. En su caso, el modelo N7700 no sólo ha heredado la función de destino iSCSI del N5200, sino que cuenta con más posibilidades –entre ellas la de conectarse a otras unidades NAS de Thecus por medio de iniciadores iSCSI– y admite también la tecnología de aprovisionamiento ligero".
more...
Características
Almacenamiento apilable y compatibilidad con iSCSI
El modelo N7700 es compatible con iniciadores iSCSI, lo cual permitirá a cualquier servidor acceder a él como si se tratase de un dispositivo de almacenamiento de conexión directa a una red LAN o a Internet con excelentes velocidades de transferencia. Gracias a esta característica, el usuario tendrá la oportunidad de administrar e implementar de forma centralizada el sistema de almacenamiento de toda su red. Además, el modelo N7700 es apilable, lo cual permite a sus usuarios conectar el equipo a un máximo de cinco N7700s adicionales y administrarlos a través de un sistema principal. Sus funciones iSCSI y de apilabilidad hacen más rápida y sencilla la ampliación de la capacidad de los servidores de aplicaciones.

Velocidad sin compromisos
La interfaz PCI-e con la que está equipado el modelo N7700 permite disfrutar de una respuesta aún más rápida y conexiones concurrentes. Además, sus características de compatibilidad integrada con módulos externos hacen posible ejecutar varias aplicaciones al mismo tiempo en el N7700, lo cual permite realizar una gran cantidad de funciones que complementan el mero almacenamiento de archivos.

Expansión RAID y migración de nivel RAID en línea
El modelo N7700 está dotado de funciones de expansión de capacidad RAID y migración de nivel RAID que permitirán al usuario agregar discos duros de mayor tamaño en ranuras disponibles, uniéndolos posteriormente a un volumen RAID existente. Una vez realizada dicha operación, el N7700 reconstruye automáticamente su matriz RAID y aumenta la capacidad de almacenamiento.

Compatibilidad con múltiples sistemas de archivos
Con el fin de cumplir las normas futuras y garantizar los máximos niveles de compatibilidad y flexibilidad, el modelo N7700 admite los sistemas de archivos ext3 y ZFS. El usuario podrá seleccionar el sistema que más le convenga para crear la capacidad necesaria según la aplicación correspondiente. Jamás había existido un dispositivo NAS tan potente y flexible.

Control de versiones y replicación remota
El modelo N7700 está equipado también con Nsync, una aplicación de copia de seguridad remota diseñada por Thecus. Gracias a Nsync, el usuario podrá configurar el dispositivo N7700 para que envíe archivos automáticamente a un dispositivo de almacenamiento externo según la programación definida. El modelo N7700 también permite controlar versiones por medio de una función de instantáneas instalable en el sistema de archivos ZFS, que permite a los usuarios crear y restaurar copias de seguridad remotas de forma eficiente. El resultado para el usuario es la protección total de los datos y la máxima tranquilidad.
Información general
Beginning with the venerable N4100 to the legendary N5200, Thecus NAS devices have established the company as a worldwide leader in digital storage. Today, Thecus is proud to release details about its latest NAS breakthrough – the N7700. Bringing together the cutting-edge technology and years of NAS experience, the N7700 is an enterprise class NAS server that makes no compromises.
The N7700 brings the latest technologies to the table. Headlining is its whopping seven SATA hard disk bays that accommodate up to a massive 7TB of storage. If that isn't enough, the N7700 also comes equipped with an eSATA port where users can install yet another SATA hard disk. To manipulate all of this data quickly, the N7700 packs an Intel® Celeron™ M 1.86GHz processor and a full gigabyte of DDRII memory, which allows for more concurrent connections and quicker system response.
To address the needs of business, the N7700 comes with a few more outstanding features. The N7700 supports iSCSI initiators, making it easy for users can centrally manage and deploy storage for their entire network. In addition, the N7700 is also stackable, enabling users to connect their unit with up to five additional N7700s and manage them via a master system. To manage all of that storage, users can look forward to multiple RAID modes on the N7700, including RAID 0, 1, 5,6,10, and JBOD. What's more, the N7700 also features RAID expansion and RAID level migration, which means that users can add larger hard disks to available slots and join an existing RAID without having to power down the system, cutting productivity-killing downtime to zero.
The N7700 also extremely flexible, offering support for ext3 and ZFS file systems. Users can select the system that they require and create the needed capacity for different applications. For ultimate data security and peace of mind, users can take advantage of the N7700's version control and remote replication. The N7700 is also equipped with Nsync, Thecus' remote data backup application.  With Nsync, users can have the N7700 automatically upload files to an external storage device at a designated time. The N7700 is also capable version control via a snapshot function with the ZFS file system, allowing users to efficiently create and restore remote backups.
Performance, security, and flexibility all-in-one. The N7700 has arrived.
Especificaciones
1. Hardware Platform
Item

Spec

SATA device

7xSATA for internal, 1xeSATA for external

LAN Interface (PCI-e)

RJ-45x2 : 10/100/1000 BASE-TX Auto MDI/MDI-X WOL supported

Expansion slot (PCI-e*1)

1

USB Interface

USB 2.0 host port x4(Front x2, Back x2) (A Type)

LCD Module

Displays system status and information

LED indicator

Power(Blue)
Status : System Busy/Fail(Blink Orange/ Blink Red)
HDD1-7 Activity/Fail(Orange/Red)
WAN (Link : Green; Activity : Orange)
LAN (Link : Green; Activity : Orange)
USB (Copy LED: Blue)
eSATA (Activity LED:Blue)

Power supply

300W Power Supply

Disk interface

SATA I/II x7 via backplane

Thermal/Fan control

Thermal sensor for HDD and processor temperature
Temperature controlled system FAN speed
Real-time clock

Battery backup system clock (Schedule on/off support)

Buttons

Power button(Front, power down controlled by S/W)
LCM button (ENT,ESC,UP, DOWN)

RS232

1 (For UPS)

Environment

Temperature : 5°C to 40°C
Humidity : 0 ~ 80 % R.H. (Non-condensing)

Dimension

Tower Base

Power Consumption

Standby mode: 95W

Full Loading: 158Wwith 1.5TB Seagate * 7 HDD installed

Sound Pressure Level

Without HDD: 34.8 dB(A)
With HDD: 34.5 dB (A) with 1.5TB Seagate * 7 HDD installed

2. Software Functions
RAID

RAID modes

RAID 0, 1, 5, 6, 10, JBOD

Auto-rebuild

Supported

Hot-swap

Supported

Hot spare

Supported

SMART

Supported

Disk

Power management

Spin down while idle time

Roaming

Supports roaming to other N7700

Network

Configuration

Fixed IP address, dynamic IP address

IP sharing mode

Can be enable/disabled

Transport Protocols

TCP/IP/Appletalk

File Protocols

SMB/CIFS, HTTP/HTTPS, FTP, NFS v3,

AFP

Link Aggregation

802.3ad, load balance and fail over

Data Access

Client OS support

Windows XP and after
Windows Server 2003 and after
UNIX/Linux
Mac OS X

WebDisk

Web-based file access

FTP

Built in FTP server with bandwidth control

Download Manager

HTTP / FTP / BT

Printer Server (IPP)

Supports USB printers
Supports various IPP printers
Client can manage print job queue via web interface

Data Backup

Client Scheduled Incremental Data Backup

Acronis True image(OEM version)

Client System Disaster Recovery

Acronis True image(OEM version)

NAS Remote Replication

Via Thecus proprietary Nsync

USB Copy to N7700

Controlled via LCM

Snapshot

Supported

Block Level Access

iSCSI Target

Supports Microsoft/Mac/Linux Initiator

iSCSI initiator

For stacking with N5200/1U4500/N7700

Power management

Schedule power on/off

Supported

Volume management

Multiple RAID

Supported

Multiple Selectable File Systems

Ext3 / ZFS

Multimedia Support

iTunes Server

Supported File Types: AAC, MP3 w/ ID3 tag, WAV

Photo Web Server

Supported File Types: GIF, JPG (JPEG), BMP, PNG
Supports EXIF display
Supports slide show

Media server

Supports uPnP AV streaming protocol
Works with DLNA-certified players

ser Authentication

Local User

Supports built-in user accounts

Local Group

Supports built-in user groups

Windows ADS

Supported

File System

Type

Journaling File System

Capacity

14TB

File Size Supported

Supports Files max : 2TB

Language Support

Unicode Support

Authorization (ACL)

Read, Write or Deny options on individual users or groups for share and folder level

Administration

Multilingual Web-based administration (Default auto)

Web-based server management Interface Supports English, Traditional Chinese, Simplified Chinese, Japanese, Korean, French, German, Italian, Spanish, auto

Utility Programs

Setup Wizard for MS Windows/MAC OSX
Backup Utility for MS Windows/MAC OSX

Email notification

Sends system messages via Email to the system administrator

SNMP trap

System basic information

Others

Recycled bin

Supported

Web Server + MySQL

Supported

ISO Mount

Supported

User module

Supported

IP CAM surveillance Server

Supported to 5 IP CAM device
Contenido del paquete
| | | | |
| --- | --- | --- | --- |
| | | | |
| Accessory Bag(with key) | Ethernet Cable | Power Cord | Acronis True Image DVD |
| | | | |
| Universal CD | QIG | Warranty Card | HDD Compatibility List Card |
Guías de uso