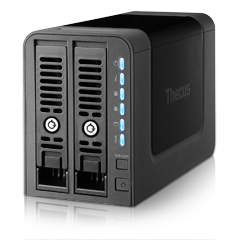 N2350
The Smart Home NAS to Connect and Secure Your Life
Lista de compatibilidades
Características
RAID múltiple
Cuando se trata de la gestión de datos, el servidor NAS de Thecus realmente le otorga completa libertad. Puede crear varios volúmenes RAID, cada uno de los cuales compatible con diferentes modos RAID (RAID 0, 1 y JBOD) para buscar su propio equilibrio entre rendimiento y protección de datos. En caso de que se produzcan fallos de funcionamiento en un disco duro, es muy sencillo el cambio gracias a la expansión y migración de RAID, el repuesto de emergencia y la reconstrucción automática.

Conexión sencilla a través de DDNS
Disponga de acceso sencillo a su dispositivo NAS mediante la funcionalidad DDNS (Dynamic DNS, es decir, DNS dinámico), que permite al usuario asignar sus archivos NAS y acceder a los mismos remotamente a través de Internet. Dado que los dígitos de las direcciones IP suelen ser difíciles de recordar, se utilizan nombres de dominio para que la administración de dispositivos NAS sea mucho más práctica. Cuando la dirección IP se cambie, el servidor DDNS se ajustará automáticamente para asegurarse de que el acceso remoto está siempre disponible. En otras palabras, DDNS proporciona acceso remoto a Internet de forma práctica para sus dispositivos N2350 de Thecus®.

Copia de seguridad en la nube
¡Las nubes privadas y públicas cuentan con la nueva funcionalidad de copia de seguridad en la nube Amazon S3 de Thecus! Proteja sus datos con RAID en casa y proporcione un nivel adicional de protección en la nube. Simplemente arrastre y coloque archivos en la carpeta de su dispositivo NAS y acceda a ellos desde cualquier equipo o dispositivo móvil con Amazon S3.

Conectividad USB 3.0
La próxima generación de conectividad está aquí con una velocidad 10 veces más rápida que USB 2.0. Ya esté conectando cámaras digitales y teléfonos inteligentes, realizando copias de seguridad de grandes discos duros externos o ampliando la capacidad del servidor NAS, la conectividad USB 3.0 garantizará que se realice en un instante a una velocidad máxima de 5 Gbit/s. La compatibilidad con versiones anteriores añade la conectividad de un mundo lleno de dispositivos USB 2.0 y USB 1.1 para obtener la mejor combinación de velocidad y acceso universal.

Varis sistemas de archivos
Se admiten varios sistemas de archivos (EXT4 y XFS) lo que proporciona la flexibilidad de los dispositivos NAS de Thecus para hacer frente a una gran cantidad de entornos diferentes. Los usuarios pueden utilizar diferentes sistemas de archivos en varios volúmenes RAID para obtener lo mejor de cada uno.

Aprovisionamiento fino iSCSI
Aproveche al máximo su espacio de almacenamiento con la velocidad extrema de iSCSI y la eficiencia del aprovisionamiento fino iSCSI. Conéctese a través de iSCSI para obtener la velocidad de transferencia de datos más rápida disponible y haga que el espacio desperdiciado en disco sea algo obsoleto con la funcionalidad de almacenamiento flexible de aprovisionamiento.

Cuotas de usuarios
Divida el almacenamiento masivo de un servidor NAS de Thecus entre varios usuarios. Ya haya dos usuarios o 100, las cuotas de usuarios facilitan el reparto y la gestión del espacio en disco.
Información general
 
03/29/2017 - Thecus ® Technology Corp today unveiled the N2350. An upgraded version of the N2310, this 2-bay full-featured file server brings stalwart security and effortless connectivity to the vital digital data of home and office users. At a superior price to performance ratio, increasing your productivity and controlling your data has never been easier.

Specifications

The Thecus N2350 is powered by a dual core Marvell Armada 385 1.0GHz CPU, and equipped with 1GB of resilient DDR4 RAM. DDR4 is the next evolution in DRAM, delivering higher performance through higher speed and more robust control features while improving energy efficiency with a reduction in memory power demand. The modernized hardware makes the N2350 one of the most energy efficient NAS in its class, helping businesses and home users to save energy.

"The N2350 provides all the essential storage services you need from a NAS, at a very attractive price point with an unprecedented level of energy efficiency. This Thecus NAS server can be quickly assimilated into any home and office environment, to delivering greater connectivity to users from day one," says Florence Shih, General Manager at Thecus Technology Corp.

ThecusOS 7.0

A transformative difference in relation to its predecessor is the addition of ThecusOS 7.0, Thecus' latest OS. This intuitive and feature-rich OS allows for significant advancements in productivity, flexibility, and performance. Key new features include Photo Center, File Center, and Thecus App Center, with an extensive variety of apps for modern digital lifestyles including the Surveillance Station.  

Data Security

The Thecus N2350 offers complete data backup and protection capabilities: Thin provisioning, replication for disaster recovery, Remote Backup or disaster recovery (for real-time remote or local backup) as well as backup to Amazon S3 cloud service.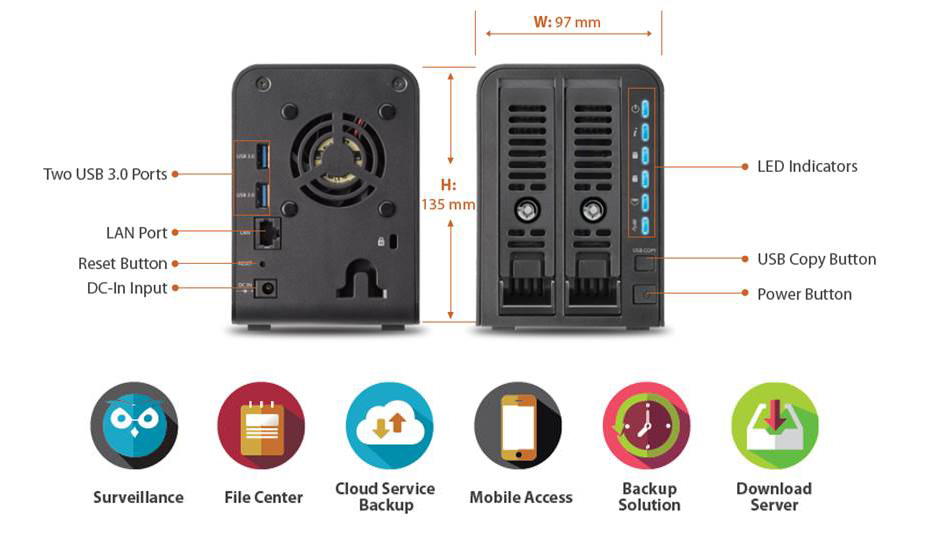 Mobile Access

The N2350 provides further connectivity with two mobile apps. Thecus Connect™ allows users to gain live access to their NAS unit, enabling them to monitor the most up-to-date information. Orbweb.me™ is a P2P module that allows users to easily view, stream and manage files in their NAS anytime and anywhere. No IP address is required.

The N2350 is purposely designed to meet the essential needs of small office and home users, providing everything they require without any unwanted extras. With an upgrade in processor performance, the next generation DDR4 RAM, and the latest ThecusOS 7 software, the N2350 is a highly attractive option in the two-bay NAS market arena.
 
Especificaciones
1. Plataforma de hardware
Elemento
Especificaciones
Procesador
Marvell Armada 385 Dual Core 1GHz SoC
Memoria del sistema
1GB DDR4 on board
Flash Memory
512MB NAND Flash
Interfaz LAN
RJ-45x1: 100/1000 BASE-TX Auto MDI/MDI-X
Se admite WOL
Interfaz USB
Puerto USB 3.0 x2 (trasero)
Indicador LED
1. Energía, sistema ocupado (azul) Sólido encendido hasta que SW implicado, después de que el interruptor implicado parpadee para indicar proceso de la energía encendido. El estado cambia a sólido mientras el sistema está listo.
2. HDD1-2 Actividad / Fallo (Parpadeo Azul / Naranja)
3. LAN (enlace: azul sólido, actividad: parpadeo azul)
4. USB (instalado: sólido encendido, copia LED: azul del destellos, copia fallada: anaranjado)
5. Estado del sistema (i): Para el uso del diagnóstico del sistema. (Azul: parpadea mientras el modo de diagnóstico se pone en marcha, permanece encendido mientras se completa el diagnóstico, si se produce un error, USB encendido con led naranja encendido)
Interfaz de disco
2 x SATA para soporte interno, disco duro SATA II / SATA III
HDD escalonado
Se admite
Fuente de alimentación
Fuente de alimentación40W
Reloj del sistema
Reloj del sistema con batería de reserva
Botones
Botón de encendido
Botón de copia USB
Botón de reinicio (restablecer los valores predeterminados de fábrica)
Condiciones medioambientales
Temperatura: 5 ° C a 40 ° C
Humedad: 0 ~ 80% R.H. (sin condensación)
Chasis
2bays Base de torre
Dimensiones (ALxANxFO)
135 x 97 x 207 (mm)/5.33 x 3.83 x 8.14 (in)
Certificates
CE/FCC/C-Tick/VCCI/BSMI
RoHS
WEEE
Reliability test
Power Consumption test
Noise dB test
Temp 0~40°C test
2. Funciones de software
RAID
Modos RAID
RAID 0, 1 y JBOD (Support multiple RAID volumes, each volume support up to 16TB)
Reconstrucción automática
Se admite
Intercambio en caliente
Se admite
Recambio en caliente
Se admite
Expansión de volúmenes RAID en línea
Se admite
Cifrado de volúmenes RAID
AES256bit
Disco
Administración de energía
Configuración disponible de reducción de velocidad de giro en período de inactividad
Detección de bloques incorrectos
Se admite
SMART Info
Se admite
SMART Test
Se admite
Disk Roaming
Admite transferencia basada en volúmenes a otros dispositivos NAS de Thecus (ThecusOS 7 )
Wipe y clon de disco
Se admite
Disco seguro
Se admite
Red
Configuración
Dirección IP fija y dirección IP dinámica
Protocolos de transporte
TCP/IP/AppleTalk
Protocolos de archivo
SMB/CIFS, HTTP/HTTPS, FTP, NFS v4, AFP
TCP/IP
IPV6 & IPV4
DDNS
Se admite
SSH
Se admite
UPnP
Se admite
Puerto de transferencia de UPnP
Se admite
Bonjour
Se admite
Servidor VPN
Se admite
vLan
Se admite
Estado del sistema
Monitor del sistema

Monitorizar datos de CPU, memoria, temperatura, ventilador, uso de red, protocolos de acceso y cuenta del usuario

Administración de Syslog
Enviar Syslog a la ubicación asignada
Actuar como servidor Syslog para recibir los registros de los demás sistemas
Acceso a datos
Sistemas operativos cliente compatibles
Windows XP y after
Windows Server 2003 y posterior
UNIX/Linux
Mac OS X
FTP
Servidor FTP integrado con control de ancho de banda
FTP seguro
Servidor FTP seguro integrado con control de ancho de banda
TFTP
Los usuarios pueden descargar y cargar archivos con programas TFTP
Gestor de descargas
Descarga BT (mediante el módulo de transmisión)
Descarga NZB (mediante el módulo NZB)
WebDAV/WebDAV SSL
Se admite
Servidor de impresión (IPP)
Admite impresoras USB
Admite varias impresoras IPP
El cliente puede administrar las tareas de impresión (lista/eliminación) a través de la interfaz de usuario web
Copia de seguridad de datos
Mac OS X Time Machine
Se admite
Carpeta local/Perpite backup iSCSI de carpetas
Se admite
remotas/ iSCSI Backup
Se admite
Sistema de tolerancia frente a fallos
Se admite
Acceso de nivel de bloque
Destino/Iniciador iSCSI
Admite los iniciadores Microsoft, Mac OS X, Linux y los destinos NAS de Thecus
Aprovisionamiento ligero iSCSI
Se admite
Administración de energía
Encendido y apagado programados
Se admite
Administración de volúmenes
RAID múltiple
Se admite
Sistema de archivos múltiple seleccionable
EXT4/XFS
Compatibilidad multimedia
Servidor de iTunes
Admite AAC, MP3 con etiquetas ID3 y WAV
Autenticación de usuarios
Usuario local
Admite cuentas de usuario integradas
Grupo local
Admite grupos de usuarios integrados
ADS de Windows
Se admite
LDAP
Se admite
Access Guard
Soporta lista negra y blanca / Filtro IP
Perfil de usuario
Permite Centro de imágenes
Se admite
Permite centro de archivos
Se admite
Centro de aplicaciones
Se admite
Centro de Vigilancia
Se admite
Copia de seguridad en la nube
Amazon S3
Se admite
Sistema de archivos
Tipo
Sistema de archivos transaccional
Idiomas admitidos
Compatible con Unicode
Autorización (ACL)
Privilegios de "lectura", "escritura" o "denegación" a usuarios individuales o grupos en carpetas y subcarpetas
Cuota de usuarios
Se admite
Administración
Interfaz de usuario
La interfaz de usuario basada en web admite inglés, chino tradicional, chino simplificado, japonés, coreano, francés, alemán, italiano, español, ruso
Utilidad de software
Asistente de instalación para MS Windows
compatible con Windows XP y posterior
Asistente de instalación para Mac OS X
Notificación por correo electrónico
Envía mensajes de sistema a través de correo electrónico al administrador del sistema
Intercepción SNMP
Capturar información del sistema
Aplicaciones móviles (iOS/Android)
Thecus Connect (Android)
Monitoreo y administración móviles (vía módulo)
Orbweb.me
Exploración de archivos, monitorización de Webcam mediante conexión P2P
Otros
Papelera de reciclaje
Se admite
Montaje de imágenes ISO
Se admite
Contenido del paquete
Ethernet Cable
Power Adaptor
Universal CD
QIG
Warranty Card
HDD Compatibility List Card