Linux NAS | PyMEs- Rackmount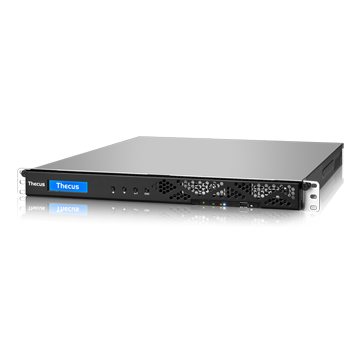 N4910U-S/R
Elite class Rackmount storage for SME
Lista de compatibilidades
Características
Copia de seguridad en la nube
¡Las nubes privadas y públicas cuentan con la nueva funcionalidad de copia de seguridad en la nube DropBox, Amazon S3 y ElephantDrive de Thecus! Proteja sus datos con RAID en casa y proporcione un nivel adicional de protección en la nube. Simplemente arrastre y coloque archivos en la carpeta de su dispositivo NAS y acceda a ellos desde cualquier equipo o dispositivo móvil con DropBox, Amazon S3 o ElephantDrive.

Salida HDMI
¡Convierta su NAS en un centro multimedia de vanguardia! La salida HDMI del dispositivo N4910U-S/R permite conectar su NAS al televisor para administrar dispositivos.

True Image de Acronis
Thecus proporciona lo mejor con el software de copia de seguridad avanzado de Acronis. Haga copias de seguridad de todos sus datos con la función Protección con un solo clic o elija solamente los archivos que más le interesen. Acronis ofrece una lograda interfaz, con un diseño sencillo y funciones globales que permiten mantener sus datos seguros.

RAID múltiple
Cuando se trata de la gestión de datos, el servidor NAS de Thecus realmente le otorga completa libertad. Puede crear varios volúmenes RAID, cada uno de los cuales compatible con diferentes modos RAID (RAID 0, 1, 5, 6, 10 y JBOD) para buscar su propio equilibrio entre rendimiento y protección de datos. En caso de que se produzcan fallos de funcionamiento en un disco duro, es muy sencillo el cambio gracias a la expansión y migración de RAID, el repuesto de emergencia y la reconstrucción automática.

Varis sistemas de archivos
Se admiten varios sistemas de archivos ( EXT4, Btrfs y XFS) lo que proporciona la flexibilidad de los dispositivos NAS de Thecus para hacer frente a una gran cantidad de entornos diferentes. Los usuarios pueden utilizar diferentes sistemas de archivos en varios volúmenes RAID para obtener lo mejor de cada uno.


Aprovisionamiento fino iSCSI
Aproveche al máximo su espacio de almacenamiento con la velocidad extrema de iSCSI y la eficiencia del aprovisionamiento fino iSCSI. Conéctese a través de iSCSI para obtener la velocidad de transferencia de datos más rápida disponible y haga que el espacio desperdiciado en disco sea algo obsoleto con la funcionalidad de almacenamiento flexible de aprovisionamiento.

Conectividad iOS/Android
En el mundo moderno, nada es tan importante como que los datos lleguen desde cualquier lugar. Con T-OnTheGo , podrá gestionar su servidor NAS, así como cargar y descargar o transmitir secuencias desde el servidor NAS mediante un dispositivo iOS o Android sin interrupciones.

Cuotas de usuarios
Divida el almacenamiento masivo de un servidor NAS de Thecus entre varios usuarios. Ya haya dos usuarios o 100, las cuotas de usuarios facilitan el reparto y la gestión del espacio en disco.

Información general
Thecus Technology Corp. today announced their latest 4-bay N4910U NAS series to the market. These versatile and compact 1U Rackmount units have been designed to deliver growing small and medium-sized businesses uncompromising resilience and high multi-thread performance in their storage.

"Today, small and large businesses alike require more robust and highly dependable storage that can support high workloads and heavy user-access. The new N4910U series delivers powerful performance and stalwart reliability while retaining a highly competitive value proposition." says Florence Shih, General Manager at Thecus Technology Corp.

The N4910U series are powered by the Intel® Skylake Core-i3 6100 3.7GHz Dual Core CPU, 4GB of resilient DDR4 ECC RAM, upgradable to 64GB and are compatible with the latest high capacity SATA drives on the market. They especially cater for heavy multi-threading applications.

Both models are capable of storing up to 40 TB of networked storage space, and can be upgraded with Dual-Port-10GbE network cards such as the Thecus C10GI540T2, enabling lightening fast transfer rates.

The N4910U series include two versions of this model. The N4910U-S has a single standard built in power supply unit, alternatively the N4910U-R offers a redundant power supply.

The N4910U series offers complete data backup and protection capabilities: Thin provisioning, replication for disaster recovery, snapshot technology (Btrfs only), Data Guard for disaster recovery (for real-time remote or local backup) as well as backup to cloud services including DropBox, ElephantDrive, and Amazon S3.  It comes bundled with Acronis True Image for uncompromising data security.

Running the latest ThecusOS 7.0, the N4910U series offers a large suite of capabilities and supports a vast amount of 3rd party solution apps as well as complete Scale Out functionality. With Scale Out, businesses can avoid costly revamps of their data centers by flexibly adding additional NAS devices to expand storage capacity.

The N4910U Series offers robust, rapid and reliable SMB/Enterprise storage solutions which further deliver on Thecus' ethos of 'empowering professionals'.
Especificaciones
1.Plataforma de hardware
Elemento
Especificaciones
Procesador
Intel® Skylake Core-i3 6100 3.7GHz Dual Core
Memoria del sistema
4GB DDR4
Memory Module Pre-installed: 4GB x 1
Total Memory Slots: 4
Memoria ampliable hasta
64GB Memory Compatibility List
Interfaz LAN (PCI-e)
RJ-45x2 :Auto MDI/MDI-X
WOL Se admite
Interfaz USB
Puerto de host USB 2.0 x1 (frontales)
Puerto de host USB 3.0 x4 (posteriores)
Indicador LED
Alimentación : Azul
Sistema ocupado : Naranja
LAN LED : Verde
Error LED : Rojo
LCM
Muestra el estado e información del sistema
Salida VGA/DVI/HDMI
Se admite
Audio(5+1), SPDIF
Se admite
Teclado y ratón (PS2)
Se admite
Ranuras PCI-e
16-lane (x1)
Interfaz de disco
4 x SATA for internal, support SATA II / SATA III hard disk
HDD staggered
Se admite
Fuente de alimentación
Fuente de alimentación 250W
Fuente de alimentación redundante 300W
Control térmico/con ventilador
Sensor de temperatura de sistema y procesador
Reloj del sistema
Reloj del sistema con batería de reserva
Administración de energía
Encendido automático después de un cierre debido a pérdida de energía
Botones
Botón de alimentación
Botón de reinicio del sistema
Botón LCM
Botón de el mudo
Timbre
Alarma de frecuencia ajustable
Condiciones medioambientales
Temperatura: 0°C to 40°C En pleno funcionamiento
-40°C to 70°C En standby
Humedad: 0 ~ 80 % R.H. (Sin condensación)
Chassis
Montaje en bastidor 1U 4bays
Dimensiones (ALxANxFO)
44 x 432.5 x 578.9 (mm) / 1.73 x 17.03 x 22.79 (in)
2. Funciones de software
RAID
Modos RAID
RAID 0, 1, 5, 6, 10 y JBOD
Reconstrucción automática
Se admite
Intercambio en caliente(Hot-swap)
Se admite
Hot Spare
Se admite
Expansión de volúmenes RAID en línea
Se admite
Cifrado de volúmenes RAID
AES256bit
Disco
Administración de energía
Configuración disponible de reducción de velocidad de giro en período de inactividad
Detección de bloques incorrectos
Se admite
SMART Info
Se admite
SMART Test
Se admite
Itinerancia de discos
Admite transferencia basada en volúmenes a otros dispositivos NAS de Thecus (Necesita ThecusOS 7 de 64 bits )
Wipe y clon de disco
Se admite
Disco seguro
Se admite
Red
Configuración
Dirección IP fija y dirección IP dinámica
Agrupación de enlaces
Load balance, Failover, 802.3ad, Balance-XOR, Balance-TLB, Balance-ALB, Broadcast
Protocolos de transporte
TCP/IP/AppleTalk
Protocolos de archivo
SMB/CIFS, HTTP/HTTPS, FTP, NFS v4, AFP
TCP/IP
IPV6 & IPV4
DDNS
Se admite
SSH
Se admite
UPnP
Se admite
Puerto de transferencia de UPnP
Se admite
Bonjour
Se admite
Servidor VPN
Se admite
vLan
Se admite
Estado del sistema
Monitor del sistema
Monitorizar datos de CPU, memoria, temperatura, ventilador, uso de red, protocolos de acceso y cuenta del usuario
Administración de Syslog
1. Enviar Syslog a la ubicación asignada
2. Actuar como servidor Syslog para recibir los registros de los demás sistemas
Acceso a datos
Sistemas operativos cliente compatibles
Windows XP y posterior
Windows Server 2003 y posterior
UNIX/Linux
Mac OS X
FTP
Servidor FTP integrado con control de ancho de banda
FTP seguro
Servidor FTP seguro integrado con control de ancho de banda
TFTP
Los usuarios pueden descargar y cargar archivos con programas TFTP
Gestor de descargas
Descarga BT (mediante el módulo de transmisión)
Descarga NZB (mediante el módulo NZB)
WebDAV/WebDAV SSL
Se admite
Servidor de impresión (IPP)
Admite impresoras USB
Admite varias impresoras IPP
El cliente puede administrar las tareas de impresión (lista/eliminación) a través de la interfaz de usuario web
Copia de seguridad de datos
Copia de seguridad de datos incremental de cliente
Acronis True Image (OEM version)
Recuperación de desastres en el sistema cliente
Acronis True Image (OEM version)
Carpeta local/Perpite backup iSCSI de carpetas
Se admite
remotas/ iSCSI Backup
Se admite
Mac OS X Time Machine
Se admite
Snapshot
Se admite (Btrfs)
Sistema de tolerancia frente a fallos
Se admite
Acceso de nivel de bloque
Destino/Iniciador iSCSI
Admite los iniciadores Microsoft, Mac OS X, Linux y los destinos NAS de Thecus
Aprovisionamiento ligero iSCSI
Se admite
MPIO
Se admite
MCS
Se admite
Creación de clústeres
Se admite
Reserva de grupos persistente SCSI3
Se admite
Administración de energía
Encendido y apagado programados
Se admite
Administración de volúmenes
RAID múltiple
Se admite
Sistema de archivos múltiple seleccionable
EXT4/XFS/Btrfs
Compatibilidad multimedia
Servidor de iTunes
Admite AAC, MP3 con etiquetas ID3 y WAV
Servidor multimedia
Admite el protocolo de transmisión de secuencias uPnP AV (mediante módulo)
Autenticación de usuarios
Usuario local
Admite cuentas de usuario integradas
Grupo local
Admite grupos de usuarios integrados
Windows ADS
Se admite
LDAP
Se admite
Perfil de usuario
Centro de imágenes
Se admite
Centro de archivos
Se admite
Centro de aplicaciones
Se admite
Centro de Vigilancia
Se admite
Copia de seguridad en la nube
DropBox
Se admite (mediante módulo)
Elephant Drive
Se admite (mediante módulo)
Amazon S3
Se admite
Sistema de archivos
Tipo
Sistema de archivos transaccional
Idiomas admitidos
Compatible con Unicode
Autorización (ACL)
Privilegios de "lectura", "escritura" o "denegación" a usuarios individuales o grupos en carpetas y subcarpetas
Cuota de usuarios
Se admite (exclude Btrfs)
Folder Quota
Se admite (btrfs only)
Administración
Interfaz de usuario
La interfaz de usuario basada en web admite inglés, chino tradicional, chino simplificado, japonés, coreano, francés, alemán, italiano, español, ruso
Utilidad de software
Asistente de instalación para MS Windows
compatible con Windows XP y posterior
Asistente de instalación para Mac OS X
Notificación por correo electrónico
Envía mensajes de sistema a través de correo electrónico al administrador del sistema
DDNS
Se admite
Intercepción SNMP
Capturar información del sistema
Conexión P2P
Cuenta de correo o FB para registrarse
Aplicaciones móviles (iOS/Android)
Thecus Connect™
Proporciona información actualizada y actualizada de su NAS (solo para Android)
Thecus Wizard™
Ofrece configuración rápida de NAS a través de su teléfono
T-OnTheGo™
Carga, descarga y transmisión en secuencias de contenido multimedia
Orbweb.me
Cargar, descargar, reproducir multimedia y webcam a través de una conexión P2P
Seguridad de los datos
Detección de virus
Compatible con Detección de virus
Ampliación de capacidad
Apilable
Puede ampliarse en hasta 5 volúmemes iSCSI más desde otro dispositivo NAS de Thecus
Scale-Out
Expansión dinámica del volumen
Otros
Papelera de reciclaje
Se admite
Pantalla local
X-Window mediante salida HDMI
Contenido del paquete
| | | | |
| --- | --- | --- | --- |
| | | | |
| Accessory Bag(with key) | Ethernet Cable | Power Cord | Universal CD |
| | | | |
| QIG | Warranty Card | HDD Compatibility List Card | Fixed Shelves |