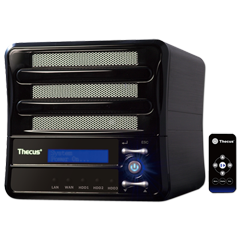 M3800
Dispositivo de almacenamiento y reproducción multimedia total
Lista de compatibilidades
Características
Dispositivo de almacenamiento y reproducción multimedia total
El modelo M3800 es una solución de almacenamiento y reproducción multimedia total. Equipado con salidas HDMI, en componentes y AV, el modelo M3800 le permitirá reproducir contenidos digitales directamente a través de su sistema de cine en casa. El modelo M3800 admite diversos formatos de archivo, incluyendo WMV9 y VC-1, e incluso permite la reproducción en modo 1080P, ideal para las actuales pantallas de alta definición. Además, gracias al control remoto que incluye, podrá disfrutar de películas, música, fotografías y otros contenidos cómodamente desde el sofá de su salón.

Funciones orientadas al uso doméstico
El modelo M3800 es perfecto para el hogar. Su servidor multimedia facilita las conexiones con dispositivos compatibles con DLNA. Su Servidor de iTunes® ofrece funciones de transmisión de música a todo el hogar, mientras que el Servidor Web de Fotografías permitirá al usuario compartir sus mejores fotografías con cualquier usuario de la red. Sin lugar a dudas, el modelo M3800 hace realidad el estilo de vida digital.

NAS doméstico con protección RAID 5
Nuestro NAS doméstico más avanzado hasta el momento. El modelo M3800 es el primer dispositivo de este tipo en ofrecer protección RAID 5, una combinación perfecta entre protección de datos y rendimiento. Disfrute de la velocidad de una matriz dividida en franjas con la seguridad de una completa redundancia de los datos. ¿Qué podría ser mejor?

Diseño elegante
Sus líneas limpias y su sofisticada elegancia hacen del modelo M3800 un dispositivo perfecto tanto para un estudio como para un salón. Su distinguido diseño hace de él un equipo que el usuario deseará enseñar.

Administración de discos sencilla
Thecus es una empresa conocida por hacer fáciles las cosas, y el modelo M3800 no es una excepción. Gracias a su sistema de administración de discos, diseñado exclusivamente para este equipo, instalar y desinstalar discos es coser y cantar. Ello permitirá al usuario pasar más tiempo disfrutando de sus medios digitales y menos configurando parámetros.

Pantalla LCD
La cómoda pantalla LCD con la que está equipado el modelo M3800 facilita su administración, incluso en entornos de iluminación reducida, como ocurre durante la reproducción de una película en un salón.

Compatibilidad con conectividad inalámbrica
Su función opcional de conexión inalámbrica por medio de un dispositivo USB compatible permite al usuario acceder a sus archivos multimedia sin necesidad de instalar incómodos cables.
Información general
Leading storage solution manufacturer Thecus Technology innovates again! This time, Thecus has worked closely with AMD and now introduces the all-new M3800. Coming this spring, the M3800 features AMD technology and delivers a complete media and storage solution perfect for the home.
Based on the AMD Geode™ processor, the M3800's design concept is centered on the home theater. Users can use the M3800 to centrally store, manage, easily access, and enjoy their movie and music files. The whole family can view their favorite blockbuster hits and listen to their favorite tunes without the hassle of having to locate files saved in different locations or multiple machines throughout the house.
"The feature-rich Thecus M3800 combines innovative design and the low-power, high-performance of the AMD Geode processor to deliver a robust centralized home media storage solution," said Buddy Broeker, director of AMD's Embedded Computing Solutions Division.  "The M3800 offers a compelling solution for households to easily store and share their digital media throughout the home network."  
Headlining the M3800 is its robust media playback capabilities, which include compatibility with the most popular media formats. For video playback, the M3800 supports WMV9, WMVHD and AVI up to a resolution of 1080p. Supported audio formats include WMA and PCM.  
But the goodness doesn't end there. The M3800 is the currently the only 3-bay NAS device with home theater video and audio sharing functionality. The M3800 supports RAID 5 for excellent data security, and adds wireless capability to allow all users throughout the house to enjoy stored media anytime they please. In addition, the M3800 supports USB webcams, making it easy for users to keep tabs on what's happening in their homes for added peace of mind. 
With the launch of the M3800, Thecus' confidence in the AMD platform is undeniable. "We were really looking forward to working with AMD on this product," commented Thecus General Manager Florence Shih. "When users are enjoying their M3800, we hope that users can experience the care and innovation Thecus puts into each of its products." 
Especificaciones
1. Hardware Specifications
Item

Spec

Processor

AMD LX800

Chipset

CS5536

System Memory

256MB DDR SODIMM

LAN Interface

RJ-45x2 : 10/100/1000 BASE-TX Auto MDI/MDI-X

USB Interface

USB 2.0 host port x2(Front x1, Back x1)

eSATA Interface

eSATA port X1 (Back)

LED indicator

Power(Blue)
HDD1 Failed/Activity(Red/Orange)
HDD2 Failed/Activity(Red/Orange)
HDD3 Failed/Activity(Red/Orange)
WAN (Link : Green; Activity : Orange), WOL supoorted
LAN (Link : Green; Activity : Orange), WOL supoorted

LCD Module

2*16 character display with 4 buttons

Power supply

External 12V 96 Watts AC power adaptor

Disk interface

SATA x3 via backplane

Thermal/Fan control

Thermal sensor on HDD and processor temperature
Temperature controlled system FAN speed

Real-time clock

Battery backup system clock

IR Receiver

38Hz frequency controlled by Micro Processor

Buzzer

Frequency controllable

Chassis

Metal chassis

Environment

Temperature : 5C to 40 C
Humidity : 0 ~ 80 % R.H. (Non-condensing)

Power Consumption

Standby mode: 40W
Full Loading: 60W with 1.5TB Seagate * 3 HDD installed

Sound Pressure Level

Without HDD: 18.8 dB(A)
With HDD: 24.0 dB (A) with 1.5TB Seagate * 3 HDD installed

Safety

CE, FCC,BSMI, C-Tick, VCCI, RoHS Compliant

IO Interfaces

AUDIO/VIDEO OUTPUT

HDMI Audio/Video output
Component Output
AV Output
S/PDIF optical Output

System Information

Video

Format

WMV9(no DRM), WMVHD(no DRM), AVI, VOB, TS

Codec

XVID, H.264, VC-1

Resolution

Up to 1920 x 1080i, 1920 x 1080P

Audio

Format

WMA, AAC, PCM, M4A(no DRM)

Codec

AC3,WMA, WMAPRO, PCM, LPCM, BDLPCM(Blueray LPCM)

Dimension

158mm(H) 173mm(W) 218mm(L)

Sound Pressure Level

2. Software Specifications
RAID

RAID modes

RAID 0, 1, 5,JBOD

Auto-rebuild

Supported

Hot-swap

Supported

Network

Configuration

Fixed IP Address, Dynamic IP Address, DDNS

IP sharing mode

Can be enable/disabled

Transport Protocols

TCP/IP/Appletalk

File Protocols

SMB/CIFS, HTTP/HTTPS, FTP, NFS, AFP

Data Access

Client OS support

Windows 98/ME/NT/2000/XP/2003/Vista
UNIX/Linux
Mac OS 9 / X

WebDisk

Web-based file access

FTP

File transmission protocol

Download Manager

HTTP / FTP / BT

Printer Server (IPP)

Support USB printers
Support IPP various printers
Client can manage(List/Delete) the print job queue on WEB interface

Data Backup

USB copy via LCM operate

Copy USB Mass storage device contents to specified location to NAS

Multimedia Support

iTunes Server

Supported File Types: AAC, MP3 w/ ID3 tag, WAV

Photo Web Server

Supported File Types: GIF, JPG (JPEG), BMP, PNG
Support EXIF display
Support slide show

Media server

Support uPnP AV streaming protocol
Works with DLNA-certified players

Web cam

Support Capture, preview, schedule
Support image size : 160 x 120, 320 x 240, 640 x 480

User Authentication

Local User

Supports built-in user accounts

Local Group

Supports built-in user groups

Microsoft PDC/AD

Supports PDC/AD users/groups

File System

Type

Journaling File System

Capacity

3TB or above

File Size Supported

Support Files max : 2TB

Language Support

Unicode Support

Authorization

Read, Write or Deny options on individual users or groups

Administration

Multi-Lingual Web-based administration

Web-based server management Interface Supports English, Traditional Chinese, Simplified Chinese, Japanese, Korean, French, German, Italian, Spanish

Utility Program

MS Windows / Mac OSX Setup Wizard,
Support multilingual
Support Windows 2000/XP/2003/Vista, Mac OSX backup utility

Email notification

Send the system messages via Email to the system administrator
Contenido del paquete
| | | | |
| --- | --- | --- | --- |
| | | | |
| Accessory Bag | Ethernet Cable | Power Cord | Power Adaptor |
| | | | |
| Universal CD | QIG | Warranty Card | HDD Compatibility List Card |