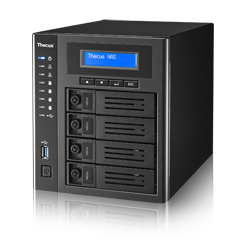 N4810
High-Value 4-Bay NAS. Your Personal Cloud.
Incluye un CPU Intel Celeron™ N3160 Quad Core
Incluye el nuevo ThecusOS 7.0
Reproducción en 4k
Accesibilidad sin interrupciones con el Sistema de tolerancia frente a fallos de Thecus
Acceso remoto seguro con VPN
Rápidas transferencias: 2 puertos lan con Link Aggregation
Reduce el riesgo de virus en un 99%
Protección completa: Equipado con Acronis gratuito
Lista de compatibilidades
Premios y análisis
2016-12-20
Media: eTeknix | Country: UK

"Uno de los beneficios clave en el NAS de Thecus es la conectividad. Con HDMI y DisplayPort puedes disfrutar de resolución de video 4K y reproducción directa en cualquier pantalla con el conector apropiado. También puedes disfrutar de la salida para sonido digital SPDIF para conectar con tu amplificador y tener un experiencia multimedia completa."
more...
Características
Running on the newly-designed, enhanced ThecusOS™ 7.0

Thecus NAS runs on the newly designed ThecusOS 7.0 offering an easy to use, intuitive user interface. Introducing several new features including Photo Station, Thecus App Center, and User Profile, ThecusOS 7.0 delivers significant improvements in design, performance, and user experience.

Seamless 4K Multimedia Playback

Delivering superb sharpness and colour contrasts in 4K resolution playback, accessed through the HDMI output or DisplayPort output, guaranteeing that the picture quality from movies is just as the director envisioned. Connection to your digital sound system via a SPDIF output is available, providing crystal clear audio for music and movies.

Uninterrupted Accessibility with Thecus System Failover

The Thecus System Failover feature is a fault tolerance process that creates mirrored data volumes. With at least two Thecus NAS available, data is copied by schedule and all changes are mirrored between the two NAS. While the second NAS is not visible, it communicates with the primary NAS. In the event of a power or network failure, a scheduled maintenance, or other unforeseen circumstances, System Failover automatically redirects operations to the secondary Thecus NAS, which then acts as the primary NAS.

Secure Remote Access with Virtual Private Network (VPN)

A VPN Server allows users to remotely access a secure network. with VPNs, businesses will be able to utilize a cost-effective, scalable and secured network infrastructure for its client base.

Thecus RAID Protection

IT administrators can aggregate multiple RAID groups into a large storage pool to flexibly utilize their entire storage capacity as a whole, all the while improving data redundancy protected with data redundancy and allowing better data protection against multiple disks failure concurrently for large capacity environment. Thecus OS also allows for the creation of multiple volumes in the Storage Pool, improving customizability for various applications in typical business environments with diverse workgroups.

AES 256-bit
RAID Volume Encryption

Thecus's AES 256-bit RAID volume encryption tool allows users to fully encrypt their entire RAID volume, defending essential data even in instances of theft.

Fault Tolerance up to RAID 10

When it comes to data management, Thecus NAS truly let you have it your way. Create multiple RAID volumes each supporting different RAID modes including RAID 0, 1, 5, 6, 10 and JBOD for your own balance of performance and data protection.

RAID Management

RAID level migration allows RAID volumes to be easily moved from one NAS to another. And RAID expansion allows you to increase the size of your RAID volume by the gradual replacement of older drives with larger ones.

Snapshot Your Data

With BTRFS support, Thecus NAS users can enjoy the simplicity of snapshot backups. Through BTRFS subvolumes, snapshots of data at various time points can be manually or automatically made and just as easily later restored to rollback files or folders to previous states.

Complete Data Backup Solution

Bundled with
Free Acronis® Backup Software

Thecus brings the best to the table with Acronis's advanced backup software. Back up all your data with One-click Protection or pick and choose only your most important files. Acronis sports a slick interface, user-friendly design, and comprehensive features to keep your data safe.

Local Backup &
Time Machine

PC users can utilize local backup devices while Mac users can automatically back up their entire Mac. Whenever a need arises, users can simply go back and recover files quickly and effortlessly

Real-Time Remote
Replication (Rsync)

This innovative backup feature allows users to back up files instantly to their NAS, external hard drive, or remote NAS. RTRR saves you time as it is able to back up data immediately and automatically.

The Cloud Done Your Way

Personal Cloud

We're a mobile society, and our NAS solutions are keeping up! Incorporated into Thecus NAS is support for Thecus's T-OnTheGo™ smartphone app. Supporting both iOS and Android, this NAS management software enables users to access, copy, stream, and edit any data between their NAS and mobile device. Your own personal cloud, available from anywhere with internet access.

Cloud Backup

The private and public clouds meet with Thecus' new DropBox, Amazon S3 and ElephantDrive cloud backup functionality! Guard your data with RAID at home and an additional level of protection in the Cloud. Just drag and drop files into the folder on your NAS and access them on any computer or mobile device with DropBox, Amazon S3 or ElephantDrive.

P2P Connectivity via Orbweb.me

Enjoy an always accessible cloud experience. Orbweb.me is a P2P module that allows users to easily view, stream and manage files in their NAS anytime and anywhere. No IP address is required. Besides that, Orbweb4.0 offers severalfeatures including webcam monitoring,timeline view and snapshot.

Multimedia Data Center

Direct Media File Playback
via HDMI Output

Transform your NAS into the ultimate multimedia hub! Thecus® NAS integrated HDMI output allows you to connect your NAS directly to your TV for direct device management and multimedia playback.

Media Streaming to XBOX360/PS4
via Plex Media Server

With the Plex Media Server installed on your Thecus® NAS, various devices on your network (such as your Xbox 360 and mobile devices) can connect to and stream your local and online media. The server can also automatically assemble iTunes, iPhoto, and Aperture content. From your favorite videos to your mountains of music, Plex makes it easy to manage and enjoy all of your media on your Thecus NAS.

TV Streaming
via Apple TV/Chromecast

Thecus NAS allow you to have your very own entertainment hub wherever you go. With TV streaming support and mobile apps, you can share all your favorite photos, music, and videos.

7 Modes of Link Aggregation for Faster Transfers

Link aggregation can sustain multiple network connections and provide redundancy in case one of the links fails. Thecus NAS supports 7 modes which provide Load Balance, Failover, 802.3ad, Balance-XOR, Balance-TLB, and Balance-ALB, Broadcast.

Bundled with Free Intel Security

Thecus' innovative hardware helps prevent failures. But sometimes you have to protect the NAS against itself. Adding an antivirus to the already comprehensive software bundle will provide the necessary software protection by scanning the files on your NAS and defending it against possible threats. Intel Security is the world's largest dedicated security technology company and shares Thecus' spirit of dedication and quality. By establishing a strong partnership with them, Thecus will allow users the benefit of Intel Security's powerful software on their NAS entirely for free.

Flexible Storage Allocation with iSCSI LUN and Thin-Provisioning

Get the most out of your storage space with the extreme speed of iSCSI and the efficiency of iSCSI thin provisioning. Connect through iSCSI for the fastest data transfer speeds available and make wasted disk space a thing of the past with thin provisioning's flexible storage functionality.
Información general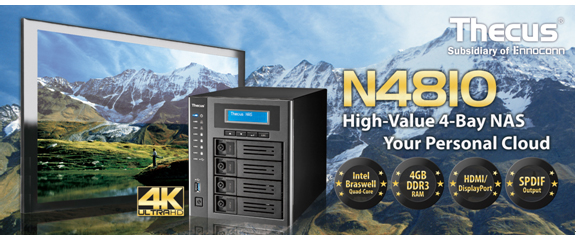 Thecus anuncia hoy el lanzamiento del N4810, la versión de 4 bahías del N2810PRO equipado con 4 GB of DDR3 RAM (expansible hasta 8GB) y un procesador Intel Celeron N3160 de cuatro núcleos. Este nuevo NAS tiene un precio muy atractivo para los consumidores y es capaz de almacenar hasta 40TB. De este modo, se convierte en la opción ideal para pequeñas oficinas y prosumidores que estén búscando una solución sólida donde almacenar sus datos y al mismo tiempo conseguir multitud de funciones.

El N4810 al igual que su hermano pequeño N2810PRO, los usuarios pueden disfrutar de multitud de opciones multimediales. Este nuevo NAS permite reproducir 4K a través de una salida HDMI o una salida DisplayPort. También incluye una salida SPDIF para conectar equipos de música. Finalmente, además de los tradicionales puertos USB 3.0, el N4810 incluye puertos de tipo C para aumentar la funcionalidad.

El N4810 viene equipado con el ThecusOS 7.0, una plataforma sencilla y atractiva para administrar los datos de manera intuitiva. Algunas de nuevas funciones como Photo Station, File Center y el Centro de aplicaciones de Thecus, ofrecen funciones que se ajustan a los retos digitales del presente y el futuro.  El ThecusOS 7.0 ofrece numerosas ventajas de productividad, flexibilidad y rendimiento.

El N4810 aumenta sustancialmente los niveles de redundancia con respecto a la serie N2810, gracias a dos habías extra, el N4810 permite muchas más configuraciones RAID (RAID 0,1,5,6, 10 y JBOD). El N4810 proporciona todos los servicios necesarios en un NAS con un ineludible compromiso con la seguridad de los datos de los clientes, alto rendimiento y un amplio abanico de funciones.

Disponibilidad: El N4810 estará disponible globalmente en agosto del 2016.
Especificaciones
1. Plataforma de hardware
Elemento
Especificaciones
Procesador
Intel® Celeron N3160 1.6GHz burst up to 2.24GHz Qual Core
Memoria del sistema
4GB DDR3
Memoria ampliable hasta
4GB/8GB Memory Compatibility List
Interfaz LAN
RJ-45x2: 10/100/1000 BASE-TX Auto MDI/MDI-X
Se admite WOL
Interfaz USB
Puerto de host USB 3.0 (1 frontales, 2 posteriores)(A Tipo) Puerto de host USB 3.0 (1 posteriores)(C Tipo)
Indicador LED
Power LED: Azul
WAN/LAN1 LED: Amarillo
LAN LED: Amarillo
USB LED: Actividad/Error: Azul/Rojo
LCM
Pantalla LCM
4 botones (ENTRAR, ESCAPE, ARRIBA y ABAJO)
Salida HDMI
Puerto HDMI (1 posterior)
Salida DP
Puerto DP (1 posterior)
SPDIF
Puerto SPDIF (1 posterior)
Interfaz de disco
4 x SATA para interna
HDD escalonados
Se admite
Fuente de alimentación
Fuente de alimentación 90W
Control térmico/con ventilador
Sensor de temperatura de sistema y procesador
El Sistema del ventilador controla la velocidad dependiendo de la temperatura
Reloj del sistema
Reloj del sistema con batería de reserva
Administración de energía
Encendido automático después de un cierre debido a pérdida de energía
Botones
Botón de alimentación
Timbre
Alarma de frecuencia ajustable
Condiciones medioambientales
Temperatura: 0°C to 40°C En pleno funcionamiento
-40°C to 70°C En standby
Humedad: 0 ~ 80 % R.H. (Sin condensación)
Chasis
4bays Base de torre
Dimensiones (ALxANxFO)
192 x 172 x 250 (mm) / 7.56 x 6.77 x 9.84 (in)

Certificates
CE/FCC/C-Tick/VCCI/BSMI
RoHS
WEEE
2. Funciones de software
RAID
Modos RAID
RAID 0, 1 y JBOD
Reconstrucción automática
Se admite
Intercambio en caliente
Se admite
Recambio en caliente
Se admite
Expansión de volúmenes RAID en línea
Se admite
Cifrado de volúmenes RAID
AES256bit
Disco
Administración de energía
Configuración disponible de reducción de velocidad de giro en período de inactividad
Detección de bloques incorrectos
Se admite
SMART Info
Se admite
SMART Test
Se admite
Disk Roaming
Admite transferencia basada en volúmenes a otros dispositivos NAS de Thecus (Necesita ThecusOS 7 de 64 bits )
Seguridad de disco
Se admite
Red
Configuración
Dirección IP fija y dirección IP dinámica
Protocolos de transporte
TCP/IP/AppleTalk
Protocolos de archivo
SMB/CIFS, HTTP/HTTPS, FTP, NFS v4, AFP
Agrupación de enlaces
Load balance, Failover, 802.3ad, Balance-XOR, Balance-TLB, Balance-ALB, Broadcast
TCP/IP
IPV6 & IPV4
DDNS
Se admite
SSH
Se admite
UPnP
Se admite
Puerto de transferencia de UPnP
Se admite
Bonjour
Se admite
Servidor VPN
Se admite
vLan
Se admite
Estado del sistema
Monitor del sistema

Monitorizar datos de CPU, memoria, temperatura, ventilador, uso de red, protocolos de acceso y cuenta del usuario

Administración de Syslog
Enviar Syslog a la ubicación asignada
Actuar como servidor Syslog para recibir los registros de los demás sistemas
Acceso a datos
Sistemas operativos cliente compatibles
Windows XP y after
Windows Server 2003 y posterior
UNIX/Linux
Mac OS X
FTP
Servidor FTP integrado con control de ancho de banda
FTP seguro
Servidor FTP seguro integrado con control de ancho de banda
TFTP
Los usuarios pueden descargar y cargar archivos con programas TFTP
Gestor de descargas
Descarga BT (mediante el módulo de transmisión)
Descarga NZB (mediante el módulo NZB)
WebDAV/WebDAV SSL
Se admite
Servidor de impresión (IPP)
Admite impresoras USB
Admite varias impresoras IPP
El cliente puede administrar las tareas de impresión (lista/eliminación) a través de la interfaz de usuario web
Copia de seguridad de datos
Copia de seguridad de datos incremental de cliente
Acronis True Image (OEM version)
Recuperación de desastres en el sistema cliente
Acronis True Image (OEM version)
Mac OS X Time Machine
Se admite
Carpeta local/Perpite backup iSCSI de carpetas
Se admite
remotas/ iSCSI Backup
Se admite
Snapshot
Se admite (Btrfs)
Sistema de tolerancia frente a fallos
Se admite
Acceso de nivel de bloque
Destino/Iniciador iSCSI
Admite los iniciadores Microsoft, Mac OS X, Linux y los destinos NAS de Thecus
Aprovisionamiento ligero iSCSI
Se admite
MPIO
Se admite
MCS
Se admite
Creación de clústeres
Se admite
Reserva de grupos persistente SCSI3
Se admite
Administración de energía
Encendido y apagado programados
Se admite
Administración de volúmenes
RAID múltiple
Se admite
Sistema de archivos múltiple seleccionable
EXT4/XFS/Btrfs
Compatibilidad multimedia
Servidor de iTunes
Admite AAC, MP3 con etiquetas ID3 y WAV
Servidor multimedia
Admite el protocolo de transmisión de secuencias uPnP AV (mediante módulo)
Autenticación de usuarios
Usuario local
Admite cuentas de usuario integradas
Grupo local
Admite grupos de usuarios integrados
ADS de Windows
Se admite
LDAP
Se admite
Perfil de usuario
Permite Centro de imágenes
Se admite
Permite centro de archivos
Se admite
Centro de aplicaciones
Se admite
Copia de seguridad en la nube
DropBox
Se admite (mediante módulo)
ElephantDriver
Se admite (mediante módulo)
Amazon S3
Se admite
Sistema de archivos
Tipo
Sistema de archivos transaccional
Idiomas admitidos
Compatible con Unicode
Autorización (ACL)
Privilegios de "lectura", "escritura" o "denegación" a usuarios individuales o grupos en carpetas y subcarpetas
Cuota de usuarios
Se admite
Folder Quota
Se admite (Btrfs)
Administración
Interfaz de usuario
La interfaz de usuario basada en web admite inglés, chino tradicional, chino simplificado, japonés, coreano, francés, alemán, italiano, español, ruso
Utilidad de software
Asistente de instalación para MS Windows
compatible con Windows XP y posterior
Asistente de instalación para Mac OS X
Notificación por correo electrónico
Envía mensajes de sistema a través de correo electrónico al administrador del sistema
Intercepción SNMP
Capturar información del sistema
P2P Connection
Mail o Facebook necesarios
DDNS
Se admite
Aplicaciones móviles (iOS/Android)
Thecus T-OnTheGo™
Carga, descarga y transmisión en secuencias de contenido multimedia
Orbweb.me
Carga, descarga, streaming multimedia y webcam a través de una conexión P2P
Seguridad de los datos
Detección de virus
Compatible con Intel® Security (mediante módulo)
Ampliación de capacidad
Apilable
Puede ampliarse en hasta 5 volúmemes iSCSI más desde otro dispositivo NAS de Thecus
Otros
Papelera de reciclaje
Se admite
Montaje de imágenes ISO
Se admite
Pantalla local
X-Window mediante salida HDMI
Disk Wipe
Se admite
Disk Clone
Se admite
Contenido del paquete
Accessory Bag(with key)
Ethernet Cable
Power Cord
Power Adaptor Cable Tie
Power Adaptor
Universal CD
QIG
Warranty Card
HDD Compatibility List Card