Si desea realizar una consulta comercial, puede ponerse en contacto con nosotros a través de la dirección de correo electrónico:

sales@thecus.com
Si desea realizar una consulta de marketing, puede ponerse en contacto con nosotros a través de la dirección de correo electrónico:

marketing@thecus.com
2016-10-06
Family business tackles logistical and growing client base with Thecus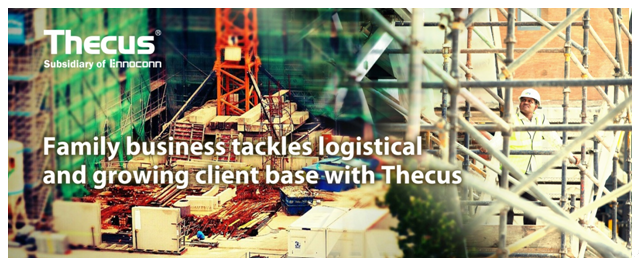 The Family Business

My name is Dennis; I am a co-owner of a family business which specializes in construction and the management of commercial and residential property in Moscow and the Greater Moscow area. Our company has been operating in this industry for 11 years. Our core business –is the construction of low-rise buildings, as well as the furnishing and repairing of theses premises – both for residential and for commercial needs. Another part of our business is utility management of small cottage communities, at the moment we manage three such communities.

Frustrations of working on a construction site

At present, we have 14 employees plus multiple other workers which we contract for specific types of work. The number of our employees is quite small, we also conduct large amounts of our work from the construction sites. All the data is stored on four PCs; we often use tablet-PCs to work on the road or on site. Our construction sites are located throughout central and greater Moscow, and considering specifics of work, distances, it is often a necessity to make quick decisions, we often face the situations when we need to solve certain matters on the road or at the construction site. That is why I use a tablet or a laptop when I am on the road. But a construction site is not a comfortable environment for working on a laptop, it is hectic and often the weather conditions are extreme. So, it is not safe to bring any equipment, and I learned this from my own experience when I dropped my laptop into the mud, and luckily the housing was not broken, and the service center could recover it together with all the data.

External HDDs met with confusion and time wasted

After that situation I became more concerned about the protection of our business data , and regularly did all the necessary backups on two external HDDs – one was stored at home and the other one was always with me in case I needed to show some data to the customers or sub-contractors. I had to update all the files on the four PCs as well, and I often faced the situations of when one PC had all the data updated, but on another one I still had old versions of the files. This caused confusion and made me spend extra time to fix such problems. As this situation deteriorated, our client base expanded, as did the number of the files which grew the scale of confusion even more. At that moment I began to think about fundamental changes in the way how we stored our company's data.



Reliability needed, fashion unnessary



I am not really an IT professional and I don't really track all the new technologies that appear on the market, I am still using the iPhone 4S, for example, and my second phone until recently was the Nokia 6233, which I used for 10 years. The change of a PC or phone for me is a practical matter and not a fashion driven action. I like reliable devices which I can use for years. As we are a small business, we cannot afford to have an IT department to manage data security and storage. We do everything by ourselves, this is why I probably had been delaying the well served internal audit of all our business data.

Global access with protection

I got to know from my friends about storage solutions like NAS, they explained that it allowed users to have fully protected information centrally stored and moreover access to all the files from any location at any moment from any mobile device. This sounded great, so I decided to give it a try. I purchased a Thecus N2310 and two hard drives for 4TB each. This NAS seemed a good deal for me, it had a competitive price, nice outlook and a silent operation. Before then, I hardly had any idea about NAS in general and about Thecus as a company.

The purchase

My major goal was that all the business' data had to be able to be transferred to the NAS, I wanted to have access to all data from any device via Internet connection, as well as I needed to have all data stored securely without risk of loss. Being the owner of a Nokia phone until recently, when I was faced with installing the NAS, I had some difficulties. However I knew that my business really needed a change in how its data storage before some disaster occurred, so I turned to a friend who was an IT professional to help me to set up the device. My friend was able to help me in all these aspects and the storage system was set up and fully functional before I knew it.

3 months on…

Our NAS has been working for three months already. We are very satisfied with the results. It is amazing how quickly we can get used to comfort. Now we simply can't imagine how we used to deal with data storage as we did before. Moscow traffic is very heavy, and our new storage system allows us to reduce our traveling, all our data is centralized and can be stored and found by anyone at any time. At meetings with clients, we access all the necessary data via a tablet or PC, enabling us to show our recently realized projects, price lists, catalogs of materials and tools without any additional updates needed. Plus I can create analysis reports much more quickly and easier now that all the data is available to me in real time. I can know instantly, that the work efficiency in our company has improved significantly. What I liked the most was that we didn't have to spend big budgets at all to make it happen.
---
Acerca de Thecus®
Thecus® Technology Corp. es una empresa especializada en soluciones de almacenamiento NAS y NVR. La empresa fue fundada en 2004 con la misión de ofrecer tecnología innovadora para todos. Combinando un excelente equipo de I+D, años de experiencia en desarrollo de hardware y software y un gran compromiso con nuestros clientes, Thecus® trabaja a diario para ofrecer productos de alta calidad con el objetivo de satisfacer las necesidades de almacenamiento del mundo actual.
Si desea realizar una consulta comercial, puede ponerse en contacto con nosotros a través de :sales@thecus.com
Si desea realizar una consulta de marketing, puede ponerse en contacto con nosotros a través de : marketing@thecus.com