Si desea realizar una consulta comercial, puede ponerse en contacto con nosotros a través de la dirección de correo electrónico:

sales@thecus.com
Si desea realizar una consulta de marketing, puede ponerse en contacto con nosotros a través de la dirección de correo electrónico:

marketing@thecus.com
2016-07-04
"Un rendimiento que sobresale"

04/07/2016
– Lab501
es la web especializada en tecnología más importante de Romania y conocida mundialmente por su experiencia analizando dispositivos, este mes han decidido poner a prueba el Thecus
N5810
NAS.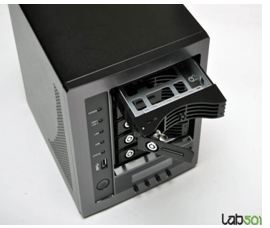 The 5-bay Thecus N5810, delivers an Intel Celeron J1900 Quad-Core CPU, with 4GB of DDR3 memory (expandable to 8). With Seagate's 8TB HDDs, this NAS has the mammoth capacity of 40TB. "
Bueno, el Thecus N5810 ha reforzado mi opinión acerca de que los Thecus NAS pueden competir en rendimiento en cualquier NAS del mercado. El nuevo Thecus OS 7.0 funcionalidad, un buen diseño y los usuarios pueden encontrar las aplicaciones necesarias para satisfacer sus necesidades. El N5810 saca el mejor partido de la plataforma en la que está construido, consiguiendo unos resultados muy altos en nuestros análisis".
Ideal for SMB, this NAS has the internal computing power to run any job fast.
"Thecus N5810 is the fastest NAS we tested so far, the performance is simply impressive. In normal use, connected to the router, our NAS attained speeds up to 107 MB / s for reading and 106 MB / s for writing of a large file, also ran at 92MB / s reading and 42MB / s for writing in case of normal files (JPEG).
Thecus OS 7.0 adds functionality, any user will find the functions you need in place in this OS. Moreover, except for certain times when both fans revs to keep the hard drives temperature below a certain threshold (perhaps 60 ° C), the NAS is silent and does not exceed 42W of consumption".
El análisis termina con una reflexión sobre el mercado NAS.
"Siempre he visto a Thecus como una alternative económica a sus competidores. Su lugar del mercado se debe a la relación calidad-precio de su productos; no obstante, este NAS sobresale por su rendimiento".
Agradecimientos a Tudor y a todo el equipo de
lab501
por el análisis.
Para el análisis complete de
lab501
, acceda a:
http://next.lab501.ro/gadget/review-thecus-n5810/9
Par saber dónde adquirir este producto, acceda a:
http://spanish.thecus.com/wtb.php
Para más información sobre el Thecus N5810, acceda a:
http://spanish.thecus.com/product.php?PROD_ID=112
---
Acerca de Thecus®
Thecus® Technology Corp. es una empresa especializada en soluciones de almacenamiento NAS y NVR. La empresa fue fundada en 2004 con la misión de ofrecer tecnología innovadora para todos. Combinando un excelente equipo de I+D, años de experiencia en desarrollo de hardware y software y un gran compromiso con nuestros clientes, Thecus® trabaja a diario para ofrecer productos de alta calidad con el objetivo de satisfacer las necesidades de almacenamiento del mundo actual.
Si desea realizar una consulta comercial, puede ponerse en contacto con nosotros a través de :sales@thecus.com
Si desea realizar una consulta de marketing, puede ponerse en contacto con nosotros a través de : marketing@thecus.com